Maine: Final Results Are In, Recreational Marijuana Is Legal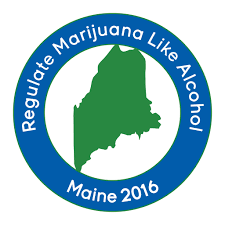 By Derrick Stanley
Hemp News
Final results of Maine's referendum to legalize recreational marijuana were tabulated Thursday, declaring recreational marijuana legal in the state. The count took nearly two days because of how close the race was, with victory coming within a fraction of a percentage point.
Supporters had already claimed victory and predicted home cultivation of marijuana would be legal by around Christmas.
The Maine people have passed it, and we should work on implementing it," said Republican state Sen. Eric Brakey, of Auburn, who supported the ballot issue.
People 21 or older will now be allowed to possess and use up to 2 1/2 ounces of marijuana, and retail marijuana shops and social clubs could open around the state. Some municipalities have balked at allowing such businesses to open in their communities.
The campaign that pushed for legalization turned immediately toward the implementation process on Thursday. They said they hope marijuana will be available in retail establishments by 2018.
"We're excited that Maine is going to join many other states that have decided to have a smarter marijuana policy — a policy that no longer punishes adults for smoking marijuana," said David Boyer, campaign manager for Yes On 1.
Pending a possible recount, Maine joins California, Nevada and Massachusetts, which passed similar measures this week. Arizona rejected a similar measure. Recreational marijuana was already legal in Colorado, Oregon, Washington, Alaska, and the District of Columbia..