Colorado: Jake Plummer Rips NFL's Marijuana Stance And 'Billionaire A--hole' Jerry Jones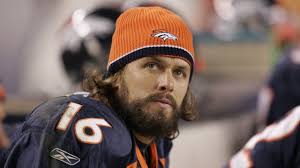 Jake Plummer, former Denver Broncos quarterback, spoke with BSC Denver recently, criticizing the NFL for its marijuana ban and Cowboys owner Jerry Jones for denying the link between CTE and football. He even called Jones a 'billionaire a--hole."
"I have a hard time with it because everybody says, 'Oh, poor NFL millionaires. Oh, you poor people.' They don't understand," Plummer told BSN Denver. "Maybe they should have a little more to say about the owners that are billionaires, they're not millionaires; they're billionaires."
"Like Jerry Jones, who says it's 'absurd' that there would be a link between brain trauma, football and CTE," Plummer said. "Shame on him for saying that, that billionaire a--hole. It's the worst thing in the world for a guy like that to say. That's where we're sitting; grown-ass men are asked to go out there for millions of dollars -- which, yeah, it's a lot of money -- bang themselves around and completely f--- their lives over for their 40s and 50s. So yeah, poor football players is what I say. If you're a grown-ass man, you should be allowed to make grown-ass decisions."
Plummer is now 10 years into retirement and has seen the negative physical effects football has had on teammates.
But Cowboys owner Jones is denying that football can cause CTE, chronic traumatic encephalopathy.
"We don't have that knowledge and background and scientifically, so there's no way in the world to say you have a relationship relative to anything here, Jones said in March. "There's no research. There's no data."
Jones' comments came just one week after the league's top health expert, Jeff Miller, said there was "certainly" a link between football and brain trauma, like CTE.
Meanwhile, the NFL continues to stand firm on its policy that marijuana should be an outlawed substance for its players.
"It's an NFL policy and we believe it's the correct policy for now and in the best interest of our players and the long-term health of our players," said NFL commissioner Roger Goodell at the Super Bowl.
Recently, former Ravens tackle Eugene Monroe and Titans linebacker Derrick Morgan have been vocal on the issue, pushing for more research into the potential positive benefits marijuana could have on players.
Plummer agrees with those players.
"They should be able to say, 'I'm going to have some CBD and puff on this fatty, relax after a football game and take the pain away,'" Plummer said. "Not get tested for it like Josh Gordon, who now can't play the game that he's been playing since he was a kid because he smokes marijuana. It didn't derail him or cause him to underachieve from what I witnessed. He dominated the league for two straight years, and now he's out of the league because he chose an alternative form of medicine."
I know a lot of guys that were using [percosets]and [vicodins]if that's what they had to do to get through an NFL season," he said. "At that point, I wasn't going to be the guy to say, "Hey man, this stuff is bad for you." I knew it was; I knew they knew it was but your job is being threatened and you're going to do whatever it takes. There was, still is and always has been a pretty high use of whatever drug of choice it is to keep you on the field."
According to BSN Denver, Plummer takes CBD on a daily basis.