Ohio: Former NFL Linebacker, Reggie Williams, Says Cannabis Saved Leg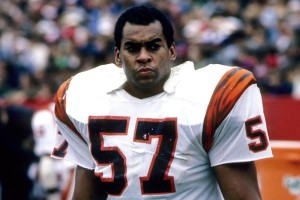 Former NFL linebacker Reggie Williams has joined the growing list of former pro-athletes advocating for cannabis
By Michael Bachara
Hemp News
Reggie Williams, who played 14 seasons from '76 to '89 with the Cincinnati Bengals, has been using a cannabis Cannabidiol (CBD) patch to fight chronic leg pain. Williams decided against treating the pain with opioids that could lead to a lifetime of drug addiction while undergoing treatment for the leg injury. Williams stated, "I didn't want to go from all those surgeries to being an addict for the rest of my life in order to stay sane" while dealing with chronic pain.
"You can put a patch on and it doesn't disturb any of your fellow passengers. And within 15-20 minutes, the discomfort is gone," Williams said. Williams believes the patch and other medicinal cannabis products could help current NFL players, who often have to play through pain.
"Pain is something that unfortunately becomes a badge of honor as an NFL player," Williams said. "In my days, it was nothing to break your fingers and not even come out of the game. And there were a number of times that you would get a stinger and get up to go back to the huddle instead of the sideline to let a doctor check you out."
Right now, the NFL bans medical cannabis, but players have plenty of access to opioids, which are fueling the epidemic of drug overdoses in America. The NFL relies heavily on opioids to get players back on the field as soon as possible, but studies have shown medical marijuana to be a much better solution; it is safer, less addictive and can even reduce opioid dependence.
"The issue now is the use of Toradol as an injectable pain reliever that some players take before taking the field. But there was one surgery I had where Toradol didn't work. And you're in the kind of excruciating pain that you wouldn't want to wish on anyone. And you've got to wait for another 20 minutes for another injection. There's nothing you can do. You have to just stare into the face of pain," Williams explained.
"Sometimes to be the master of your fate, it helps to have a patch to push you along," Williams said. "And this has been the great discovery and the opportunity to bring medicinal cannabis into the mainstream as the best alternative for pain."
"That's why I'm involved now - to take the stigma off of a natural medicine. Because there needs to be other options - not just for NFL players but for all of us," Williams said.
In 2013, a CNN program that featured Charlotte's Web cannabis brought increased demand for CBD-dominant cannabis across the US.
Photo Source: Google Image. NFL