New York: Former NFL Star Marvin Washington Advocating for Cannabis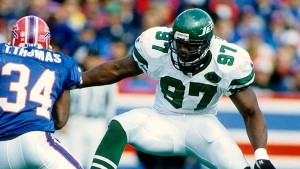 By Michael Bachara
Hemp News
Former NFL Defensive End Marvin Washington, who played 11 years in the NFL and won a Super Bowl with the Broncos in 1999, wants the NFL and the Players Association to embrace cannabis as a safe alternative to treat debilitating sports injuries.
Washington didn't smoke cannabis in the NFL, but was aware of players using the herb to ease pain. "I knew guys who smoked, but it wasn't my deal," he said. "I never got high with any of my teammates, but I understand why they smoked," Washington stated. "There's a lot of pressure on football players and it takes off some of that pressure. There's a lot of pressure to perform and keep your job. A lot of guys are taking care of not just their immediate family but their extended families as well."
Today, however, the former NFL star has become an advocate for cannabis. In doing so, Washington has joined the growing list of former players calling on the league and its union to embrace cannabis as an option to fight traumatic brain injuries and painkiller addiction.
A group, which includes Leonard Marshall, Jake Plummer, Eugene Monroe and Jim McMahon, have called on the NFL and its Players Association to fund research exploring cannabis' potential as a treatment for long-term brain injuries linked to the contact sport.
"One of my goals is to get cannabis accepted by the athletic community," stated Washington. "The NFL has a safety issue and it needs to look at this plant. The NFL needs to follow the science. I don't want to kill football, I want to make it safer — with marijuana," Washington explained.
"I'm not talking about affirmative action," Washington stated. "I'm talking about a level playing field. I don't want set-asides, I want inclusion."
In 2015, Washington co-wrote an op-ed for Huffington Post with fellow NFL players Scott Fujita and Brendon Ayanbadejo, which urged the NFL to take the lead on cannabis research.
"I just want people to follow the science," Washington said. "I don't want to have a debate with you if you say it is against your ideology or religion. I just want people to follow the science."
"They have a vested interest in keeping this organized lie that has been going on for 80 years. We have to go against it. People in the public eye can bring a lot of light to this issue," said Washington. "I'm going to continue to meet with more politicians, because the whole thing is education. They don't know the difference between THC or TLC."
Photo Source: Google Image, NFL