Georgia: Medical Cannabis Oil Law Expands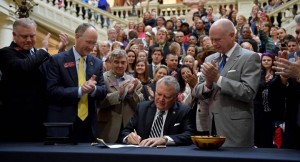 Since the latest expansion law took effect, 185 people registered as caregivers bringing the statewide total to 2,248
By Michael Bachara
Hemp News
On Tuesday, Gov. Nathan Deal signed into law a measure that expands the state's medical cannabis program. Senate Bill 16 adds six more conditions eligible for treatment with a limited form of cannabis oil in Georgia. The conditions include: AIDS, Alzheimer's disease, autism, epidermolysis bullosa, peripheral neuropathy and Tourette's syndrome. Patients in hospice care are also allowed to possess the oil.
Since the law took effect, new patients listed the condition peripheral neuropathy most often. Since nerve damage can cause pain, numbness, and tingling, which is considered "severe or end stage", it was added to the list of conditions.
According to data from the Department of Public Health, 23 people listed nerve damage, 21 with seizure disorders, 19 with cancer, 18 with multiple sclerosis and 13 with autism. Rep. Allen Peake, a Republican who authored Georgia's legislation, said the steady number of sign-ups is more reason for the state to allow production of medical marijuana products.
Each month Rep. Peake receives different types of cannabis oil at his office and provides it to patients around the state. Rep. Peake says he doesn't bring the oil in himself and doesn't ask how it gets to his door. "It's what continues to push us to take the risk because it's having such an incredible impact on folks' lives," Rep. Peake said.
"My hope is that in 2018 we can fill the gaping hole that still remains, and provide legal access to medical cannabis oil here in our state with a safe, lab tested product produced within our own borders," Rep. Peake wrote. "The job will not be finished until we accomplish this task."
Jennifer Conforti registered two days after Georgia's governor signed the expansion into law on May 9. She began giving her daughter, who is autistic, cannabis oil more than two years ago when nothing else addressed the girl's "rages," including screams and Abby biting her own arms. "The bitter part is the fact that we are not anywhere close to where we need to be, which is cultivation and distribution," Conforti said. "Until we have it readily available for people here, what's the point?"
Brian Underwood's 3-year-old son, Reid, is the reason epidermolysis bullosa is eligible in Georgia. "It's just ludicrous that it's illegal to get," Underwood said. "We're glad the card gives us protection here. But that's not the hard part."
Photo Source: B. Sanderlin, ajc.com