U.S.: Historic Bipartisan Support to Remove Industrial Hemp from the Controlled Substances Act in both the House and Senate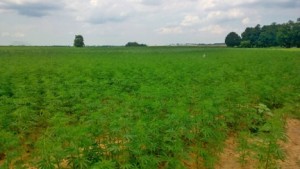 By Amy Peradotta, Special to Hemp News
Hopefully you have heard a thing or two in the news lately about industrial hemp. If so, it is because it is finally gaining political traction again after a very insidious yet successful smear campaign lasting nearly 80 years, equating it to marijuana. If you haven't heard about hemp in the news lately, keep your eyes and ears peeled because big changes are on the way!
As of 2015, twenty-one states have defined industrial hemp as distinct from marijuana and removed barriers to its production (CA, CO, DE, HI, IL, IN, KY, ME, MI, MO, MT, NE, NY, ND, OR, SC, TN, UT, VT, WA, WV). These are highly regulated pilot projects that must be administered in accordance with the Drug Enforcement Agency (DEA) and an institution of higher education. Despite the legality of hemp in these states, only two states (CO and KY) successfully planted and harvested a crop in 2014. This was the first legal crop grown and harvested on American soil since WWII. If you are wondering why that might be, it has to do with our good friends at the DEA.
You see, back in 1937, President Franklin D. Roosevelt signed the Marijuana Tax Stamp Act into law. This effectively made hemp synonymous with marijuana, because both plants are part of the cannabis L. sativa plant family. However, the big difference between the two plants is that hemp does not produce enough tetrahydrocannabinol (THC) to offer the euphoria that marijuana provides. Fast-forward 33 years later, and President Richard Nixon classified marijuana as a Schedule 1 narcotic, along with heroin and LSD as part of the Controlled Substances Act of 1970. Since the 1937 Marijuana Tax Stamp Act considered hemp the same as marijuana, it too was labeled as a drug.
Keep in mind that from the moment the first settlers set foot on North American soil up until 1937, hemp was legally grown for fiber and used to make paper, clothing, sails, and rope. But the Marijuana Tax Stamp Act of 1937 prohibited farmers from growing hemp by imposing new, very expensive licensing fees that had to be obtained by the DEA. As a result, farmers were unable to pay the exorbitant fees and navigate the bureaucratic licensing process, so hemp cultivation in America came to a screeching halt. Interestingly, in 1942 during WWII, the Japanese cut off our supply of Manila hemp imported from the Philippines, which caused a fiber shortage throughout the nation. This prompted the Department of Agriculture to initiate the Hemp for Victory campaign, which allowed American farmers to temporarily grow hemp again in order to produce enough fiber and rope for the war effort. However, as soon as the war ended, the program was shut down almost instantly.
It is unfortunate that the United States shut itself off from this versatile renewable resource because it has the power to revive our economy, provide countless jobs, and give our farmers a more profitable cash crop to grow. But really, that is just the tip of the iceberg. This plant is said to have over 25,000 uses and back in 1938 was touted in Popular Mechanics magazine as "The Billion Dollar Crop". Surprisingly, the other phenomenal element of this plant is its ability to sway the least productive Congress in history into working together! Right now we are witnessing historic levels of bipartisan support for agricultural hemp in both the House and the Senate.
This bipartisan effort has resulted in the Industrial Hemp Farming Act of 2015 (S134). This legislation was submitted in the Senate on Jan. 8, 2015, and was cosponsored by Senators Jeff Merkley (OR-D) and Ron Wyden (OR-D), along with Senators Rand Paul (KY-R) and Senate Majority Leader of the House Mitch McConnell (KY-R). Although the Farm Bill of 2014 included Section 7606 known as "Legitimacy of Industrial Hemp Research", the 2015 legislation goes a step further. The 2015 bill aims to dismantle the federal restrictions on domestic cultivation by removing hemp from the Schedule I category of the Controlled Substances Act of 1970. The bill also redefines hemp as a non-drug as long as the tetrahydrocannabinol (THC) level is at or below .3 percent.
Additionally, on Jan. 21, 2015, Congressman Thomas Massie (KY-R) and Congressman Jared Polis (CO-D) submitted a similar measure in the House of Representatives. The Industrial Hemp Farming Act of 2015 (H.R. 525) has the support of a bipartisan coalition of 47 members of the House. It also amends the Controlled Substances Act to exclude industrial hemp from the definition of marijuana, allowing farmers to grow it under regulated conditions without fear of the DEA raiding their fields and seizing their crops.
The odds have never been more favorable for this legislation to successfully pass through Congress, and make its way to President's desk. When this bill is signed into law, it will be an historic turning point for this nation. Currently, we are the world's largest consumer of imported hemp goods. This legislation has the potential to change the game, allowing all those profits to remain within our shores. That means thousands of brand new jobs for a whole new industry. Along with a new industry, comes the need to develop new infrastructure and facilities for processing, distribution, and manufacturing. Processing the seeds, oil, and fiber into durable goods will spark innovation and creativity in product development and bring new opportunities to rural communities throughout the nation. Since the processing facilities need to be located near the farms, this could be a boon to struggling rural areas, bringing much needed income to economically depressed regions. A fully realized hemp industry will also spur further research and development in hemp's role in super capacitor batteries used in electronic devices and other nanotechnologies. This will increase the demand for skilled labor, and also provide additional tax revenues at the local, state, and federal levels.
Excited yet? Good! Now more than ever your voice needs to be heard. Please contact your Congressional leaders and let them know that America supports industrial hemp for our farmers, economy, and environment. Both these bills will be discussed very soon, so here is what you can do to help:
For the Senate bill Industrial Hemp Farming Act of 2015 (S134), contact your state senators who serve on the Senate Judiciary Committee first. Let them know you support the 2015 Industrial Hemp Farming Act (S134) because it is good for US farmers, the economy, and the environment, and ask them to vote yes on this bill. You can find the Senate Judiciary Committee members here: http://www.judiciary.senate.gov/about/members. In order for this bill to even make it to the Senate floor for a vote, it has to first get through the Senate Judiciary Committee.
Next, contact the other senator(s) from your state and ask them to vote yes on S134 once it makes it through the Senate Judiciary Committee. You can find your state senators and their contact information here: https://www.congress.gov/members.
For the House bill The Industrial Hemp Farming Act of 2015 (H.R. 525), contact your state representatives and let them know you support the Industrial Hemp Farming Act of 2015 (H.R. 525) because it is good for US farmers, the economy, and the environment, and ask that they vote yes on this bill as well. You can find your representatives and their contact information here: https://www.congress.gov/members
Let's bring hemp back to the US for our farmers, our economy, and our future! THANK YOU for reading!
* Photo provided courtesy of Katie Moyer Arzamastseva, taken in July 2014 of the Kentucky hemp pilot project in Elizabethtown, KY.
Amy Peradotta is a hemp researcher, advocate, and enthusiast based in Portland, Oregon. She earned a Master of Public Administration degree from Southern Illinois University in 2008, where she chose to focus her research on industrial hemp policy. Her master's thesis focused on the arguments surrounding the legalization of the hemp plant, and highlighted its potential to revive the rural farming communities of Illinois. She can be reached for questions or comments at: amyperadotta at gmail.com and you can follow her on Twitter/@amyperadox.