Illinois: Cards Against Humanity Donates $70K To Legalize Cannabis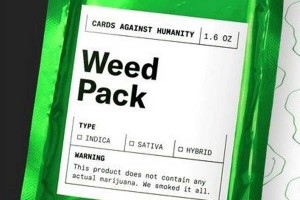 By Michael Bachara
Hemp News
Cards Against Humanity, a popular adult-themed party card game company out of Chicago, is putting some cash behind efforts to legalize recreational cannabis use in Illinois.
To date, Cards for Humanity has donated $70,000 to the Marijuana Policy Project's (MPP) efforts to legalize cannabis in Illinois.
Rep. Kelly Cassidy (D), Sponsor of a bill to regulate cannabis for adult use, is a fan of the card game.
"I've even played it in Springfield with some of our colleagues. But part of the fun of that is we know we're all letting our hair down a little bit, so I'm going to honor the anonymity that Cards Against Humanity provides. ... It is an opportunity for some great laughs with friends," Rep. Cassidy said.
"The biggest hurdles are going to be education." Rep Cassidy said, "and making sure in some ways that elected officials understand that their constituents really want this."
Jenn Bane the Game Community Manager for Cards Against Humanity, said in a statement, the group will continue to donate proceeds from sales of a $5 Weed Pack expansion to the to end cannabis prohibition in Illinois.
"Prohibition didn't work before, and it doesn't work now," Rep. Cassidy said. "And that's why we really do see interesting partnerships on this."
Chris Lindsey, Marijuana Policy Project's Senior Legislative Counsel, said cannabis prohibition has been a "crime against humanity."
Recent polling data from the Paul Simon Public Policy Institute that shows 66 percent of Illinois voters support regulating and taxing cannabis.
Photo Source: Cards Against Humanity