Illinois: Industrial Hemp May Become State's Newest Cash Crop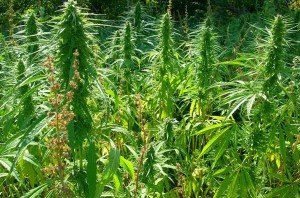 Illinois farmers may soon be able to add hemp to their rotation
By Michael Bachara
Hemp News
SB 1294, an industrial hemp bill sponsored by Sen. Toi Hutchinson, D-Olympia Fields, which passed unanimously in the Illinois Senate, would allow the Illinois Department of Agriculture to license farmers to grow industrial hemp.
The bill, initiated by The Illinois Stewardship Alliance and Illinois Farmers Union, is a collaboration with the Illinois Environmental Council and Illinois Farm Bureau in an attempt to restore hemp in Illinois. The legislation would amend the Illinois Noxious Weed Law to allow farmers to grow hemp to be processed and sold for its fiber, seeds, and oil.
Rebecca Osland, a policy associate at the Illinois Stewardship Alliance believes cultivating hemp would benefit farmers. "From a farming side of things, it would allow our farmers to have another crop for rotation, and hemp is a much less chemically intensive crop," Osland told the Edwardsville Intelligencer. "It has the potential to remediate the soil by drawing out toxins. It's also a good option for farmers who transition to organic to help get the soil prepared for that conversion."
"From our perspective, it provides an additional crop opportunity for our farmers and a market for a new crop that they would have an opportunity to grow," said Bill Bodine, Associate Director of State Legislation for the Illinois Farm Bureau.
Illinois Farmers' Union Marketing Director Rob Davies believes Illinois can be a market leader in industrial hemp production. "It would make sense to have an alternative commodity that we can grow which is very useful," Davies said. "Whether it's for nutritional purposes, for fiber purposes, and for manufacturing, there are over 20,000 uses for industrial hemp. What we're hoping it's something that we can start here and be at the forefront of turning it into an industry."
According to the Illinois Stewardship Alliance, there are 25,000 different products that could be made from hemp, ranging from a plastic alternative to food, cosmetics, rope, and clothing.
The Notre Dame University publication "The American Midland Naturalist" in a 1975 article called "Feral Hemp in Southern Illinois" reviews a study on the wild hemp fields that annual efforts from law enforcement eradication teams cannot wipe out. The study notes that an acre of hemp produces 8,000 pounds of hemp seed per acre. When cold-pressed, the 8,000 pounds of hemp seed yield over 300 gallons of hemp seed oil and a byproduct of 6,000 pounds of high protein hemp flour.
In neighboring Kentucky, more than 135 farms and 40 processors have enrolled in the state's flourishing industrial hemp pilot program.
If the bill is approved by the House, Illinois would join the list of states that have removed the prohibition of industrial hemp production.
Photo Source: Hemp Field 2009, Anndrea Hermann, M.Sc, P.Ag, iHempRadio