Illinois: Senate Approves Marijuana Decriminalization Bill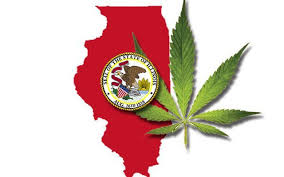 By Derrick Stanley
Hemp News
The Illinois Senate voted Tuesday 40 to 14 in favor of a bill that would decriminalize simple possession of marijuana, replacing a punishment of jail time with a small fine.
"We need to replace Illinois's current patchwork of marijuana possession laws with a consistent standard that will be applied fairly across the state," Senator Heather Steans, the bill's primary sponsor, told HIGH TIMES in an e-mailed statement. "People should not be sent to jail for an offense that would have been punishable by a small fine if it had occurred a few miles down the road. It's irrational, it's unpredictable, and it's unjust."
Senate Bill 2228 introduces legislation that will impose a fine of $100-$200 on anyone caught with 10 grams of marijuana or less.Currently, any person caught with 10 grams of pot can be arrested and charged with a criminal misdemeanor punishable by up to six months in jail and a $1,500 fine.
In addition, the bill comes with a provision that eliminates the state's zero-tolerance policy for stoned driving. Under current law, a person is at risk of getting a DUI for any amount of THC in the blood, even if it is residual from use days before.
The new bill establishes a legal limit of 5 nanograms of THC per milliliter of blood or 10 nanograms of THC in saliva.
The proposal now moves to the House of Representatives for consideration.
As long as the House does not dispute the measure in its current form, which is not expected to happen, the decriminalization bill could end up on the governor's desk sometime in May.
"Illinois spends way too much money imposing costly criminal penalties on people who are found in possession of a personal amount of marijuana," said Chris Lindsey of the Marijuana Policy Project. "Serious penalties should be reserved for people who commit serious crimes, not used to punish marijuana consumers. Nobody should face a lifelong criminal record simply for possessing a substance that is less harmful than alcohol."