Iowa: Medical Cannabis Program Expands, Accepting Applications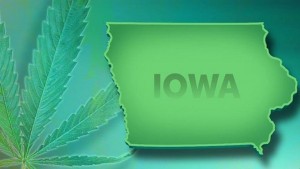 Thousands of Iowans one step closer to medicinal cannabis as an option
By Michael Bachara
Hemp News
On Monday, registration cards for Iowa's new medicinal cannabis oil became available from the Iowa Department of Public Health. In a historic first, Iowans who suffer from a multitude of diseases, including Parkinson's disease, Cancer, Multiple Sclerosis, seizures, AIDS or HIV, Crohn's disease, or Amyotrophic Lateral Sclerosis, as well as most terminal illnesses that involve a life expectancy of less than one year, will have the chance the to enroll in the state's new medical cannabis program. The new law, formerly House File 524, was signed by Gov. Terry Branstad in May.
"I mean, it's the end result of what I was after and I am very thrilled about it," said Tom Duncan, a kidney cancer patient from Jefferson. "It's just a good step for the state."
"As I go around and talk to people, there is a lot of interest out there and a lot of support. Cancer touches almost any family anymore, and I hope they can get help and relief. I'm hoping that with enough numbers and applications, they'll realize that they way underestimated Iowans wanting this medicine," Duncan added.
The new registration process will require written certification from doctors, stating patients do have a qualifying medical condition.
"This is a great next step in the process of making medical cannabis available for many folks here in Iowa who need access to it as a medical treatment," said Threase Harms, a lobbyist representing the Epilepsy Foundation and the Upper Midwest Chapter of the National Multiple Sclerosis Society.
"The state of Minnesota has had a medical cannabis oil program running for a few years and Minnesotans who have been living with MS have seen great benefits from that program," said Dan Endreson, the Senior Manager of Advocacy of Iowa, Minnesota, and Nebraska for the National Multiple Sclerosis Society.
The registration includes a $100 fee which accompanies the application for the medical cannabis card. For Iowa residents that participate in the medical assistance program, the registration fee is $25. Applications will be available on the Iowa Department of Public Health's website starting Monday.
Manufacturers must start supplying medical cannabis oil to dispensaries by December 2018, according to the law.
Photo Source: KCCI