Oregon: Jack Herer Benefit Event This Friday at Village Ballroom in Portland
THCF and Several NORML Chapters Join In
By Paul Stanford and Michael Bachara, Hemp News Staff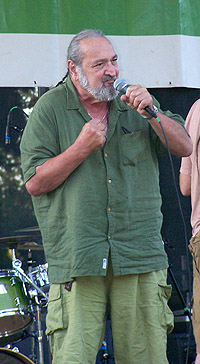 Portland – All are invited to a benefit event scheduled this Friday, December 4th at 8pm at the Village Ballroom for hemp icon and author, Jack Herer. The Village Ballroom is at 700 N.E. Dekum Street, which is located above the Oregon Cannabis Cafe, Oregon NORML's new medical marijuana patent resource center that has received a firestorm of publicity since opening last month. The benefit is organized by The Hemp & Cannabis Foundation (THCF), and cosponsored by Oregon NORML and Texas-based Waco NORML. We are joining together to raise money for Jack Herer, who suffered a heart attack after delivering a passionate speech on stage at the Portland Hempstalk Festival this past September 2009.
Jack had been traveling around the world for decades, promoting industrial hemp and his seminal book on the subject, The Emperor Wears No Clothes. The first edition of Jack's book was written in Portland in 1985. Jack has a business in Portland and lived here for several years. Jack Herer was also the subject of a video biography, The Emperor of Hemp, that played on PBS and HBO.
The benefit features music from two bands, Pass Margo and Tim Pate and Friends, who are donating their time to show support for Jack. It is sure to be a memorable evening and a great chance for the community to give back to the founder of the hemp movement, known worldwide as "The Emperor of Hemp". Jack's passion for the movement toward legalization of hemp and cannabis has inspired millions around the world to realize what potential lies in the cannabis plant. "I don't want to wait 20 or 50 years for something to be done about petrochemical pollution," Jack Herer said. Jack worked for years on initiative petition campaigns to legalize marijuana. Despite his current health issues, he remains strong and positive for the future of hemp.
Jack is now recovering in Eugene, Oregon, and making positive strides daily. He is a fighter and will surely overcome this obstacle to see the hemp plant restored to its rightful place in society.
There is a fund for Jack's recovery set up at US Bank to help the Herer family financially during this challenging time. If you can't attend this Friday's benefit event, you may go to any US Bank and advise the teller you are depositing into the JACK HERER DONATION FUND. Please donate what you can, your support is greatly appreciated!
Jack Herer, Paul Stanford, Madeline Martinez and Russ Belville - Cannabis Common Sense 501
Jack Herer (Hemp Can Save The Planet) - Hempstalk 2009
Jack Herer with Dr. Phillip Leveque - Hempstalk 2009


Source:http://www.youtube.com/watch?v=GQgkxwiQVkE
http://www.youtube.com/watch?v=2h0rcUS4bSk
http://www.youtube.com/watch?v=SXpYxidA4_0