Kentucky: Hemp Grown In Commonwealth Used As Insulation In Lexington Housing Project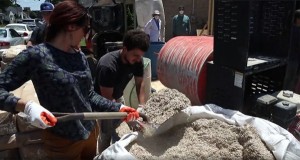 Kentucky's first hemp crop was grown in 1775, and Kentucky went on to become the nation's leading hemp-producing state in the mid-19th century with peak production of 40,000 tons in 1850
By Michael Bachara
Hemp News
This weekend, to commemorate Hemp History Week, a two day "Building with Hemp" workshop brought community members together in Lexington, Kentucky to begin insulating a house with Kentucky-grown hemp. Kris Nonn, a construction director at North Limestone Community Development Corporation who organized the workshop, believes it is important to understand "how something that grows really well here can be used for construction."
"There's a lot to be figured out, and I think this house gives us the opportunity to look into that," said Josh Hendrix, director of business development and domestic production at CV Sciences, a co-sponsor of the workshop.
Hendrix, a Mount Sterling hemp farmer, hopes to one day build a guest house on his family farm made of hemp building materials.
"It's an emerging crop with many different uses" Hendrix said.
"What we're trying to demonstrate is how a locally-sourced product can help the local economy," Nonn said. "There's a potential for jobs, for green jobs specifically."
"Hempcrete is hypoallergenic, resistant to fire and insect damage, and "allows moisture to move through it," said Nonn.
Hempcrete is created by mixing industrial hemp, lime and water, creating a final product similar to a more 'breathable' limestone.
A local construction company has donated $3,000 to analyze and monitor the energy consumption of the house as part of the project, according to The Lexington Herald-Leader.
Federal legislation passed in 1938 outlawed production of cannabis, including hemp, in the U.S. In 1970, hemp was classified as a Schedule I controlled substance, under the Controlled Substances Act.
In 2014, under the Federal Farm Bill, lawmakers allowed hemp to be grown in Kentucky for research purposes. The hemp cultivated must contain less than 0.3% THC, according to state law.
Photo Source: Marcus Dorsey, Lexington Herald-Leader