Kentucky: Industrial Hemp Processing Plant Expands In Louisville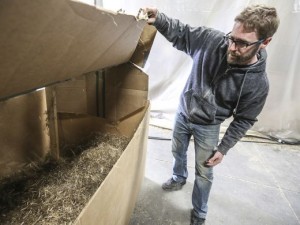 The processing plant fibers are being developed to create furnace filters and filaments for 3D printing
By Michael Bachara
Hemp News
Sunstrand, a Louisville-based hemp processing plant, is a biomaterials company that processes hemp, kanaf, flax, and bamboo for industrial and technical applications. In 2014, the business started in Okolona, after Kentucky allowed industrial hemp. The company's new 25,000-square-foot plant is more than four times larger than its original location. The company has contracts with several Kentucky farmers to grow hemp, and their fibers are being developed to create furnace filters and filaments for 3D printing.
University of Kentucky's David Williams, an agronomy professor, has been working with Sunstrand on their hemp production. "Sunstrand's focus on getting a quality crop and coating it for industrial uses is impressive," Williams said.
Greg Langdon, a well-known adviser in Louisville, said that Sunstrand's approach has been "well calibrated" in their approach. "They've been smart to understand that the company will have to go through some intermediate steps before pushing growth," Langdon said.
"This larger space allows us more functionality and more efficiency," said Trey Riddle, the firm's chief executive officer and president of the Kentucky Hemp Industries Association, in a statement. "We'll be able to offer a greater diversity of products."
"One of the reasons we moved to this state was to bring hemp into our lineup and Kentucky, being a leader in the hemp industry, was a perfect fit for us," Riddle said.
Industrial hemp is incredibly versatile, with industrial applications ranging from car parts to building materials and 3D printing. Manufacturers use Sunstrand's materials to make products more sustainable by replacing glass plastic fibers with hemp fibers grown in Kentucky.
"All of our hemp comes from the state of Kentucky and most of our farmers are within a 100-mile radius of our plant here in Louisville," Riddle said.
Photo Source: Michael Clevenger, The C-J