Kentucky: Senate Approves Bill Expanding Industrial Hemp Program (SB 218)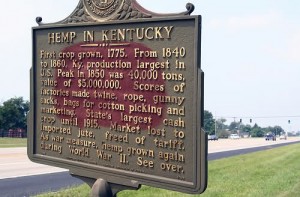 The bill will improve the framework for the growth of the industrial hemp farming in Kentucky.
By Michael Bachara
Hemp News
With a 35-0 vote, the Kentucky Senate approved legislation (SB 218) to expand Kentucky law, establishing rules for hemp production in the Commonwealth.
If passed by the House, the bill will authorize the Kentucky Department of Agriculture to publicize administrative regulations for the program and replaces the Hemp Commission with an Industrial Hemp Advisory Board.
Kentucky Commissioner of Agriculture Ryan Quarles said, "The bill will improve the framework of a growing industrial hemp program in Kentucky."
"As many as 12,000 acres of hemp could be planted this season. That compares to 4000 acres approved for hemp production last year," according to Commissioner Quarles.
In 2014, the program began in Kentucky with a minor 33 acres. By 2016, 137 growers were approved to plant up to 4,500 acres. With more than 12,800 acres approved to be grown, 2017 will mark the state's largest industrial hemp crop under the program.
"We are proud to have 40 processors with brick-and-mortar locations in Kentucky, the highest ever, that are turning this raw product into intermediate or final materials. Its potential uses are unlimited," said Commissioner Quarles.
Senate Majority Leader Damon Thayer, R-Georgetown, one of the bill's sponsors, said the bill modifies the legal framework state lawmakers enacted in 2013 to create an industrial hemp program to be aligned with the Federal Farm Bill of 2014.
"It has gone mainstream, and a lot of the concerns that were expressed four years ago have proven to be unfounded," said Sen.Thayer.
Senate President Senator Robert Stivers II, "I was not one of the earlier continued supporters of the initiative. But, I do truly believe that, based on the fact that it is here and it is growing, that we need to make sure that it is something that can be appropriately monitored."
In conservative fashion, the bill also includes several law-enforcement standards, such as annual criminal backgrounds for people licensed to grow hemp, a 10-year program ban for any licensee convicted of any felony and a 10-year ban for any licensee convicted of a drug-related misdemeanor.
Kentucky's first hemp crop was grown in 1775, and Kentucky went on to become the nation's leading hemp-producing state in the mid-19th century with peak production of 40,000 tons in 1850. After the Civil War, U.S. hemp production declined and almost all of the nation's hemp was grown in the Bluegrass region of Kentucky.
SB 218 now moves on to the House for a vote.