Indiana: Large Majority Of Voters Support Legalizing Medical Marijuana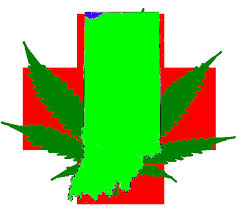 By Derrick Stanley
Hemp News
A new WTHR/HPI Indiana Poll has found that a vast majority of likely Indiana voters are in support of legalizing medical marijuana in the state. The poll focused specifically on likely voters and strongly indicates that an initiative effort to legalize marijuana as a medicine would be approved with overwhelming support.
According to the poll, 73% of likely voters in the state are in support of medical marijuana. Only 25% are opposed to the move, and want to keep medical narijuana illegal.
Only 2% of likely voters were found to be undecided.
The survey found Democrats to be the most likely to support medical cannabis with 82%, support followed by independents at 77%. Support among Republicans was lower, but still a strong majority was in support at 59%.
There are lawmakers in the state who are working to make a change in the law. Last year Indiana State Senator filed Senate Bill 284, a proposal to legalize medical cannabis, including personal cultivation and dispensaries. Unfortunately the measure failed to advance, but the conversation is already underway.