Uruguay: Legal Marijuana Sales Set To Begin In July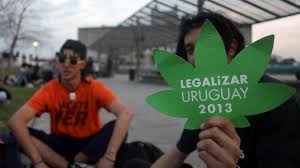 By Derrick Stanley
Hemp News
Legal marijuana sales are set to begin in Uruguay in July, more than four years after the South American nation fully legalized the cannabis trade. Marijuana will be available under the law to citizens and permanent residents 18 years of age and older at pharmacies for $1.30 per gram. Buyers will be limited to purchasing no more than 40 grams per month and will be required to sign up with a national registry. Home growers and cooperative clubs will be allowed to cultivate up to 99 plants.
Presidential Aide Juan Andres Roballo said the registry would be up and running by May 2
The government currently has 16 pharmacies on board, but many pharmacists have doubted the financial benefits of selling cost-controlled cannabis. Some Uruguayans have also expressed privacy concerns over the national registry.
Roballo said that before the registry is launched there would be a public health campaign. He said that he does not believe there will be "an avalanche of users" signing up for the registry.
Uruguay legalized the sale and cultivation of marijuana in 2013 under former President José Mujica in an effort to combat homicides and crime associated with drug trafficking.