Pennsylvania: Marijuana Activists March To Democratic Convention With 51-Foot Joints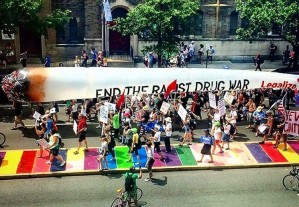 By Derrick Stanley
Hemp News
Two 51-foot inflatable joints were marched up Broad Street in Philadelphia yesterday to celebrate the Democratic National Committee's progressive platform on marijuana.
About two dozen members of the Philadelphia branch of the National Organization for the Reform of Marijuana Laws (NORML) carried the blow-up joints about 3.5 miles from Philadelphia City Hall to the Wells Fargo enter, where the convention is taking place.
Marijuana is a central issue at the convention this year, and pro-legalization groups are pleased with the progress being made. Activists have been joined by some members of Congress, fighting for marijuana reform, hoping that federal laws will soon mirror those of states that have legalized marijuana.
One joint read "Legalize" and "Hillary, Deschedule Cannabis Now".
The other read "End the Racist Drug War" and Berned by the DNC", referring to the leaked e-mails that showed high-ranking party members had favored Hillary Clinton. Sanders became an advocate for marijuana reform during his campaign, and had a lot to do with why the issue made it part of the DNC platform at all. He refrained from endorsing Clinton until certain issues from his campaign, including marijuana reform and free college tuition, were added to the party's platform draft.
The Democratic Party platform's section on marijuana currently reads:
"We believe that the states should be laboratories of democracy on the issue of marijuana, and those states that want to decriminalize marijuana should be able to do so. We support policies that will allow more research to be done on marijuana, as well as reforming our laws to allow legal marijuana businesses to exist without uncertainty. And we recognize our current marijuana laws have had an unacceptable disparate impact, with arrest rates for marijuana possession among African-Americans far outstripping arrest rates among whites despite similar usage rates."
The Democratic Party is scheduled to vote on the platform Wednesday night, and marijuana activists will be watching to make sure the section on marijuana is not cut out.