Washington, DC: Marijuana Advocates Vow To Smoke And Get Arrested On Steps Of U.S. Capitol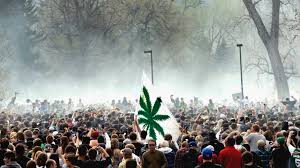 By Derrick Stanley
Hemp News
Dozens of marijuana advocates plan to light joints on the steps of the U.S. Capitol Monday as part of an effort to urge Congress to support marijuana legalization. Committing the offense on federal land could draw a sentence of up to a year in jail.
The April 24 event will mark the first time activists plan to light up on federal land.
It also would be the first significant protest to take place under the Trump administration, which has suggested it may crack down on violations of federal drug laws prohibiting the use of recreational marijuana.
"You can only ask nicely for so long before you have to change your tactic," said Adam Eidinger, a co-founder of the advocacy group DCMJ. He said he's made sure his 13-year-old daughter will be taken care of and that his rent is paid in case he must spend an extended period of time in jail.
"It's come to this," he said.
Eidinger's group plans to distribute free marijuana joints to anyone with a congressional ID badge on a city street outside the Capitol. Under current law, possessing the joints on city streets is not a crime, but smoking it is.
The group has already rolled more than 1,000 joints and has dozens of volunteers ready to distribute them.
Any mass arrests from Monday's planned protest would be left to federal prosecutors in the District to handle.