Great Britain: Marijuana Extract Proven To Treat Rare Forms Of Epilepsy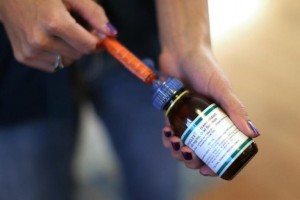 By Derrick Stanley
Hemp News
A pharmaceutical-grade form of marijuana extract has again proven to be an effective treatment for several different types of epilepsy.
The British company GW Pharmaceuticals has released successful results from the latest clinical trial of Epidiolex, a form of CBD-rich medication, Forbes reported.
It was the second trial for a rare type of epilepsy called Lennox Gastaut Dyndrome. Epidiolex was given to 86 patients who suffer from the disorder, while 85 patients received a placebo medication. Patients given the Epidiolex saw their seizures reduce by 44%, compared to a 22% reduction for those in placebo.
"Between the plant itself and the processing steps which are being taken, the product ends up being pure CBD," said GW's chief executive Justin Gower to Forbes.
GW Pharmaceuticals plans to file for FDA approval in the first half of 2017, although many similar CBD-based formulations are already available in states with legal medical marijuana laws, such as California and Colorado.