South Carolina: Marijuana Infused Candy Turns Up In State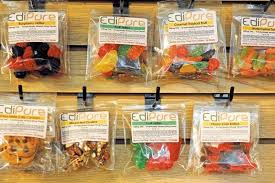 By Derrick Stanley
Hemp News
Law enforcement officers on the South Carolina coast are warning parents after they discovered a load of marijuana-infused candies during a traffic stop recently on Interstate 95, WHNS reported.
Deputies from the Florence County Sheriff's Department said the candies were infused with tetrahydrocannabinol, THC, the psychoactive chemical component of marijuana. Officers said the candies are virtually indistinguishable from brand name candies without a chemical analysis.
They said the THC-infused candies were produced in Colorado, where marijuana is legal, but that it's not legal to possessor transport these products out of the state.
According to the labels, the candy is stated to contain 100 mg of THC.
Deputies are urging parents to be aware that these products are showing up in the state and to report any suspicious candies to law enforcement.