Maryland: Senate Passes Bill To Expand List Of Who Can Recommend Medical Marijuana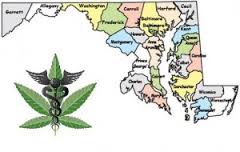 By Derrick Stanley
Hemp News
Yesterday, the Maryland Senate passed House Bill 104 Medical Cannabis- Written Certifications-Certifying Providers by a vote of 36-10.
Governor Larry Hogan (R) is expected to sign the legislation, which will allow dentists, podiatrists, nurse practitioners, and nurse midwives to provide written certification for medical marijuana to qualifying patients. The law currently only allows physicians to prescribe the drug.
These additional medical providers would be required to have an active, unrestricted license, be in good standing with their respective board, and have a state contolled dangerous substances (CDS) registration in order to qualify to be a provider.
Steph Sherer, executive director of Americans for Safe Access, commended the Maryland General Assembly, saying "I am pleased to see the Maryland legislature recognizing that medical cannabis therapies should be an option for all medical professionals in treating their patients."
If Gov. Hogan signs the legislation, Maryland would join at least two other states that have a more inclusive approach to the types of licensed health care providers who can make written recommendations under their state's medical cannabis program.