Massachusetts: Governor Signs Recreational Cannabis Bill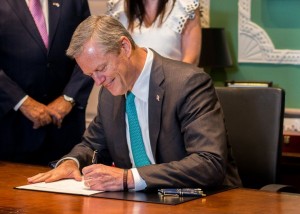 By Michael Bachara
Hemp News
Yesterday, Massachusetts Governor Charlie Baker signed an overhaul of the state's voter-passed recreational cannabis law. The governor's signature, which comes 11 days after a legislative conference committee reached agreement on a compromise bill that changed several aspects of the original voter approved measure, is an issue the governor opposes.
"I don't support this," Gov. Baker said to reporters in his ceremonial office at the State House. "I worry terribly about what the consequences over time will be, but look, the people voted this and I think it's really important that we put a program in place that delivered a workable, safe, productive recreational marijuana market for them here in Massachusetts."
The new law calls for cannabis to have a maximum tax rate of 20 percent, which is up from a maximum 12 percent rate outlined in the voter-passed ballot question in November 2016.
The 20 percent breakdown is a 6.25 percent state sales tax, a 10.75 percent excise tax on cannabis and an additional sales tax of up to 3 percent that communities can include, if they wish.
"The tax rate, we think, is too high," said Jim Borghesani, a spokesman for legalization advocates. "We put it at 12 percent for the specific reason that we wanted to dampen down the illicit market to the greatest extent we could."
The original Cannabis Control Commission was to be a three-person panel with its members all appointed by the state treasurer, now it will become a five member commission. Additionally, the governor and the attorney general have to select the five commissioners by Sept. 1, according to a report from the Boston Globe.
In a statement, Gov. Baker said he appreciates "the careful consideration the legislature took to balance input from lawmakers, educators, public safety officials and public health professionals, while honoring the will of the voters regarding the adult use of marijuana."
Photo Source: Mass Live