Oregon: Portland Mayor Sam Adams Proclaims May as Medical Marijuana Awareness Month
Oregon's largest city joins the state's third largest, in officially getting behind state laws on medical marijuana.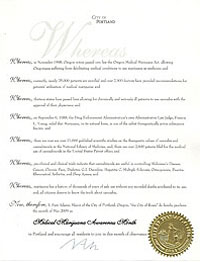 Oregon NORML Executive Director Madeline Martinez met with Portland Mayor Sam Adams to receive his signature on a proclamation by the City of Portland that May is Medical Marijuana Awareness Month. ( Download PDF ) This proclamation follows an earlier one by Eugene Mayor Kitty Piercy proclaiming Medical Marijuana Awareness Week in that city.
The event was recorded by NBC affiliate KGW for the evening news broadcast. Reporters spoke with Madeline about the proclamation.
The Oregon Medical Marijuana Program is now closing in on 25,000 patients, plus caregivers and growers, who are not threatened by imprisonment for helping people treat themselves with "the safest therapeutically active substance known to man"*.
This decade of success has seen 25,000 sick, disabled, and sense-threatened Oregonians gain legal relief from safe, effective, natural cannabis and has served as a model for other medical marijuana states.
Oregon NORML applauds Mayor Piercy and Mayor Adams for taking a strong stand for the people of Oregon and supporting the medical marijuana law that was approved by Oregon voters. While the law and the program are more popular than ever (63% approval rating**), there is still much work to be done to fully protect patients, including protecting the right to work and housing, educating law enforcement about the law, and solving the problem of safe access to medicine for those who cannot grow their own.
*DEA Administrative Law Judge Francis L. Young, 1988
**Voter Power commissioned poll, April 2009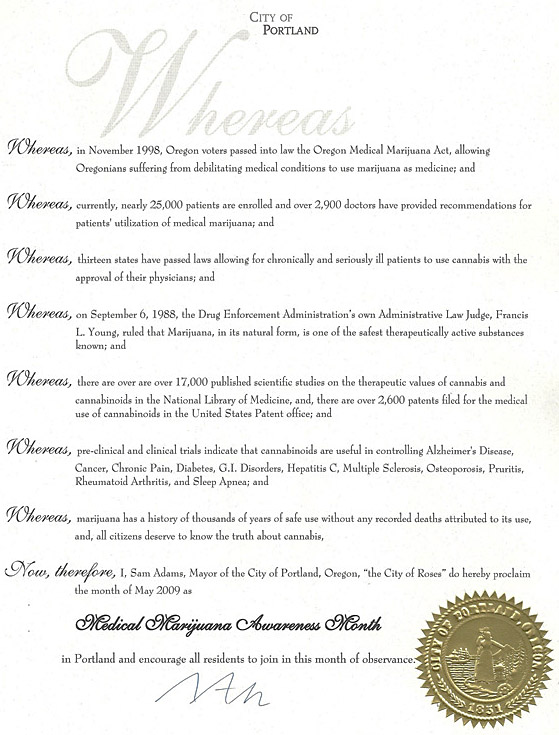 Related:
Oregon: The Sticky Behind Medical Marijuana
http://hemp.org/news/sticky-behind-medical-marijuana
NORML: California Assemblyman Introduces Legislation To Tax And Regulate Marijuana Like Alcohol
http://hemp.org/news/california-assemblyman-introduces-legislation-to-ta...
Portland Follows Eugene in Proclamation of 'Medical Marijuana Month'
http://salem-news.com/articles/may072009/pot_proclamation_5-7-09.php
Eugene, Oregon Formally Recognizes Legal Medical Marijuana with Proclamation
http://www.salem-news.com/articles/april282009/eugene_proc_4-28-09.php
United States: Dr. Ron Paul and Stephen Baldwin Debate Marijuana Legalization on Larry King
http://www.hemp.org/news/dr-ron-paul-stephen-baldwin-larry-king-live-deb...
Mayor to attend rally for medical marijuana | Kitty Piercy also proclaims Awareness Week in Eugene
http://www.registerguard.com/csp/cms/sites/web/updates/12835567-55/story...
Eugene mayor marks "Medical Marijuana Awareness Week"
http://blog.oregonlive.com/nwheadlines/2009/04/eugene_mayor_marks_medica...


Source: http://www.ornorml.org/main.php