Iowa: Medical Marijuana Bill On Fast Track In Senate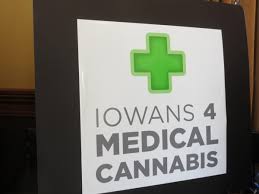 By Derrick Stanley
Hemp News
Legislation is moving quickly through the Iowa Senate that would authorize the use of medical marijuana to provide help for patients with cancer, post-traumatic stress disorder and several other ailments.
Senate Study Bill 1190, The Compassionate Use of Cannabis Act, was approved Wednesday morning on a 3-0 subcommittee vote and it cleared Senate Appropriations Committee Wednesday afternoon.
Sen. Charles Schneider, R-West Des Moines, said the bill could be approved by the full Senate as early as Monday. The measure would then be sent to the House for consideration.
"This is not just a statement bill. We would like to get this through the House and down to the governor's desk," said Schneider, a supporter of medical cannabis. Lawmakers would need to act soon, however, because the 2017 session could end next week.
Medical conditions eligible for medical marijuana would include: Cancer, multiple sclerosis, epilepsy, AIDS or HIV, hepatitis C, glaucoma, Crohn's disease or ulcerative colitis, amyotrophic lateral sclerosis, Ehlers-Danlos syndrome, post-traumatic stress disorder, Tourette's syndrome, any terminal illness subject to certain conditions, intractable pain, Parkinson's disease, muscular dystrophy, Huntington's disease, Alzheimer's disease, complex regional pain syndrome, rheumatoid arthritis, and any other chronic or debilitating disease or medical condition or its medical treatment approved by state officials.
The legislation will not allow smoking of marijuana, but will require state officials to license at least four but no more than twelve medical cannabis manufacturers by Dec 1, 2017, and to license 12 medical cannabis dispensaries by April 2, 2018.