Michigan: High Times Midwest Medical Cannabis Cup This Weekend In Clio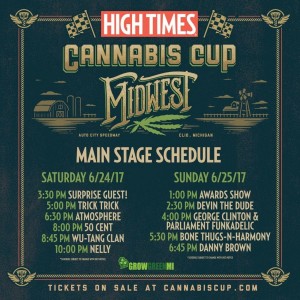 Cannabis activists will be at the event gathering signatures for a recreational cannabis initiative for 2018
By Michael Bachara
Hemp News
This weekend, on June 24-25, the Michigan cannabis community is coming together in Clio for the 4th Annual High Times Midwest Cannabis Cup. High Times, the organization sponsoring Cannabis Cups since 1988, has been working to unite cannabis freedom fighters since 1974.
The two-day expo is an opportunity for medical cannabis patients to sample new strains, dispensaries to showcase their product and activists to gather signatures to place recreational cannabis on the 2018 ballot. Artists performing in support of the event will include George Clinton & Parliament Funkadelic, 50 Cent, Wu-Tang Clan, Bone Thugs-N-Harmony, Atmosphere, Danny Brown, Devin The Dude, and Nelly.
Danny Danko, Senior Cultivation Editor for High Times, said, "We're so excited to be back in Michigan for the Cannabis Cup. We always enjoy the enthusiasm and excitement of Michiganders towards cannabis and it's been amazing to see how the industry has transformed the local landscape. Dispensaries, grow shops, and consumption lounges are thriving and we're seeing the economy pick up partly due to the infusion of money and jobs from cannabis. Also, veterans, senior citizens and even children with epilepsy and other ailments are gaining access to a variety of medical marijuana applications including CBD-rich products, edibles, topicals, and tinctures."
Cannabis activists will be at the event gathering signatures for a recreational cannabis initiative for 2018. If approved by voters, Michigan would legalize personal possession, cultivation, and use of cannabis for adults 21 and older. The initiative would allow every household the right to grow 12 cannabis plants. The coalition needs collect just over 250,000 valid signatures needed to place the issue on the November 2018 ballot.
According to Attorney Matthew Abel, Executive Director, Michigan NORML, "The law would have a twelve plant limit per person and a twelve per household cap. It will allow for industrial hemp cultivation, processing and sale in Michigan, tax free."
"Michigan is ready for legalization," Abel said. "It is time to end the damage from prohibition."
"Activism is a hugely important aspect of the Cannabis Cup. As much as we are celebrating the gains we've made in marijuana law reform, there is still so much further to go. The Cup provides a meeting place and incubator for activism, including signature gathering as well as honing our message for future actions. Home grow is such an important part of any new legislation as it allows the patient to produce their own medicine, knowing everything that was or wasn't added to the plants. Lab testing for pesticides and other contaminants ensures a safer product for all consumers," Danko told Hemp News.
"There will be NO out-of-state submissions allowed due to the fact the federal government has the authority to regulate interstate commerce. Thus, they can prosecute individuals for transporting cannabis across state lines, even from one legal state to another," promotional material for the event suggested.