Minnesota: Industrial Hemp Flourishing in the Midwest Again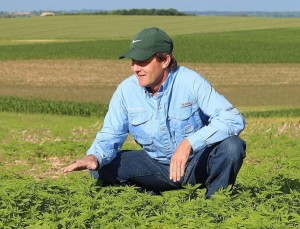 Before the federal government banned hemp production in 1957, industrial hemp was a booming cash crop in Minnesota and the plant still grows wild across the state
By Michael Bachara
Hemp News
In 2015, the Minnesota Department of Agriculture created an industrial hemp research pilot program to study different aspects of industrial hemp production. This is the first year that the Minnesota Department of Agriculture has allowed certified seed production and growing seeds from pure seed stock.
Mike Zabel, a 500-acre seed farmer in Grand Meadow, who planted about 200 acres of hemp, grows seed for Ken Anderson, the founder of Original Green Distribution.
"I wanted to grow hemp, but didn't want to grow it just to grow it," Zabel says. "Since we are in the seed business, we decided to grow hemp for seed production."
In 2014, Anderson was the first individual in America to legally import hemp seed from Canada, after the federal farm bill passed in congress. Anderson has cultivated hemp in a project for the Kentucky Department of Agriculture and is working on an industrial hemp project in North Dakota.
"We are working with the Association of Official Seed Certifying Agencies, and we have been given permission to start domestic production of certified seed, so we no longer have to import certified seed from Canada," Anderson said.
"There's a lot of opportunity in hemp seed production, but right now the stop gap is getting the infrastructure in place," Anderson said. Then, selling to places like General Mills will be conceivable.
Andrea Vaubel, assistant commissioner with the Minnesota Department of Agriculture, said in a statement, "I think there's huge potential out there for our state that we're missing out on."
Hemp is a $500 million market in Canada, Vaubel noted. "We'd like to tap into that."
Photo Source: AgriNews