Minnesota: PTSD Patients Allowed to Obtain Medicinal Cannabis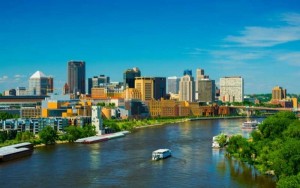 By Michael Bachara
Hemp News
Minnesota residents who suffer from post-traumatic stress disorder are permitted to buy medical cannabis from the state's dispensaries, as of August 1st, under the state's medical marijuana program.
In 2016, Minnesota approved PTSD as a qualifying condition, but patients weren't permitted to obtain medical cannabis to treat their disorder until August 1st.
Only 105 patients with PTSD had started or completed the registration process in the month leading up to legal sales, despite the addition of the illness to Minnesota's list of qualifying conditions, according to state data.
Last year, patients suffering from chronic pain that couldn't be treated with other means were allowed to use medical marijuana, a move that added thousands of patients to the medical marijuana program.
In 2017, patient advocates have been pushing to add more qualifying conditions, including autism, Alzheimer's disease, and Parkinson's disease.
Earlier this year, Colorado, Delaware and New Hampshire added PTSD as qualifying conditions to their state medical marijuana programs.
Photo Source: Leafly