Mississippi: Dog Brings Home Pound Of Marijuana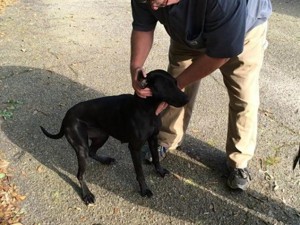 By Derrick Stanley
Hemp News
A dog in Laurel, Mississippi returned from a bathroom outing with a pound of marijuana Saturday.
Miley, a black lab mix (surely there's some retriever DNA in there) came in holding a white plastic bag full of marijuana, officials in the Jones County Sheriff's Office said Monday.
Investigators were called to the Will Hayes Road home Saturday where they found individual baggies with weed sorted by potency, sheriff's office spokeswoman Allyson Knotts told the Daily News.
The stash, obviously packaged for distribution, weighed about a pound, she reported. No arrests had been made as of Wednesday afternoon.
"They can't really ask the dog, 'From what pile did you get that?'" Knotts said. "It's under investigation, but it was a tricky incident."
Miley's owner is not suspected in the investigation.
Photo courtesy Jones County Sheriff's Office