U.S.: Netflix's 'Disjointed,' Starring Kathy Bates, Offers Laughs in Mad World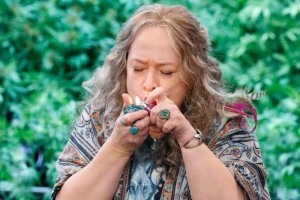 By Michael Bachara
Hemp News
Oscar winner Kathy Bates, 69, is lighting up again — only this time it's cannabis — as Ruth Whitefeather Feldman, the owner of a California medical cannabis dispensary in Netflix's new sitcom "Disjointed".
"Disjointed", which showcases Ruth's old school activism against the business ambitions of her son, Travis (Aaron Moten), a newly minted M.B.A. who wants to grow their dispensary into the Walmart of cannabis, also tackles real world situations from politics to post traumatic stress disorder.
"David (Javerbaum) is so talented and Chuck (Lorre) has an amazing track record, so I decided to roll the dice with them," Bates said of the show. "I'm not stabbing or slicing anybody up. But there's an intensity being in front of a live audience again that's so much fun."
On smoking cannabis, Bates said, "I've had a prescription for some time for chronic pain. I've really become a believer. I find it just as, if not more, effective than other pain relief. Originally, when I was going through breast cancer, my oncologist prescribed some, because my recovery was painful and the marijuana was a tremendous help. And now they have vape pens, which are a lot less caustic in terms of smoke. And since you can control the amount of your intake, you can smoke and be functional during the day — although I don't smoke when I work. That to me is unprofessional."
On the topic of supporting legalization in the United States, Bates said, "I do and even more so now that I've become more educated about what its properties are. And you see how it's helping people like the partner of our cannabis consultant, who has cerebral palsy, or the Gridiron Cannabis Coalition, a group of football players I met who were suffering from different head injuries and it helped them tremendously."
"Disjointed" premiered Aug. 25 on Netflix. The show currently has 10 episodes.
Photo Source: Google Images