U.S.: Nevada Representative Kihuen Asks U.S. Attorney General Sessions To Honor Will of Voters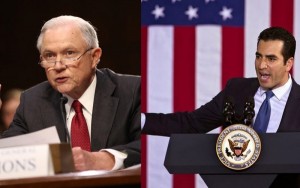 By Michael Bachara
Hemp News
WASHINGTON, D.C. – On June 30, Nevada Representative Ruben J. Kihuen (D - 4th District) sent a letter to U.S. Attorney General Jeff Sessions asking that the Department of Justice continue to not prosecute cannabis-related cases where the alleged crime is legal under state law.
In the letter, Rep. Kihuen wrote: "As you [Attorney General Sessions] may know, starting on July 1, 2017, adults over 21 years of age will be able to legally purchase and possess marijuana under Nevada state law. Given that marijuana is still illegal under federal law, I ask that you continue to recognize the precedent set under President Obama's Department of Justice (DOJ) and avoid prosecuting individuals and firms operating legally under state law for marijuana-related offenses."
The Nevada ballot initiative, passed last November, puts some common sense restrictions on how much marijuana an individual can possess and under what circumstances its use would still be illegal. Local governments have worked to put in place regulations that match the needs of their individual communities and continue to tweak and refine these regulations to ensure that recreational marijuana sales are approached in a manner that protects the safety of our communities and allows for the free flow of commerce.
Rep. Kihuen continued, "The August 2013 memorandum issued by then-Deputy Attorney General James M. Cole updating the DOJ's priorities with respect to enforcement of the Controlled Substances Act (CSA) has provided states with needed certainty as more and more states across the country legalized the use of marijuana for medicinal and recreational purposes. This memorandum makes it abundantly clear that though marijuana may remain illegal under the CSA, it would not be a priority of the DOJ to prosecute related crimes. In fact, the memo specifically says that the DOJ should continue to rely on local law enforcement to enforce laws related to marijuana, especially in states with 'strong and effective regulatory and enforcement systems.' I believe that the system put in place in Nevada is sufficiently rigorous that deference should be given by the DOJ to Nevada state law."
"I believe that as public officials we have the solemn duty of ensuring that the will of the people we answer to is dutifully upheld. I understand that you do not support the legalization of marijuana for any purpose, however, I believe it is incumbent on you to respect the wishes of the more than 600,000 Nevadans who voted in favor of legalization. I ask that you continue the DOJ policy of not prosecuting marijuana-related cases where the alleged crime is legal under state law, " Rep. Kihuen concluded.
The state's financial opportunities from recreational marijuana are vast, with Las Vegas receiving over 40 million visitors alone each year and an estimated 290,000-320,000 in-state customers.
The measure, which went into effect on July 1, 2017, far exceeded expectations bringing in millions of initial day sales, with store owners reporting that purchases far outpaced those of medical cannabis as the state became the fifth in the nation to offer adult-use products.
As of June 30, Nevada had licensed 44 dispensaries to sell recreational marijuana, including 39 in the Las Vegas area.