Florida: New Ad Campaign Says Marijuana Isn't Medicine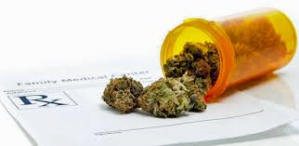 By Derrick Stanley
Hemp News
The anti-marijuana group Drug Free Florida released a 30 second ad Thursday which opens with a prescription for Marinol, which the group says offers the same benefits as medical marijuana.
Marinol is a pharmaceutical tetrahydrocannabinol, a drug which contains the principal psychoactive component of cannabis. 
The ad then goes on to slam medical marijuana for not being regulated by the Food and Drug Administration and for not being prescribed by a doctor.
The group says amendment 2 is a "scam" which would make medical marijuana legal. "You don't smoke medicine," the ad says, while pictures of young people smoking marijuana flash on the screen. 
The ad is the latest in the fight against Amendment 2, which would legalize medical marijuana in Florida for patients with "debilitating conditions."
Conditions covered under the amendment would include cancer, epilepsy, glaucoma, HIV/AIDS, and for other conditions which a physician feels using medical marijuana would outweigh the potential health risks for a patient. 
There are differences between Marinol and marijuana. Marinol contains only THC, and can take about an hour to take effect, while smoked or vaporized THC takes effect in a matter of seconds or minutes. Marinol is often used to treat cancer patients, HIV/AIDS patients, and people undergoing chemotherapy.
Medical marijuana would only be prescribed by a licensed physician. The amendment would allow the medical use of marijuana by patients and caregivers.
Drug Free Florida has gone up against medical marijuana before. Their campaign was successful in 2014, when the amendment failed to receive the 60 percent necessary to pass. It only received 58 percent of the vote.
Recent polls suggest Florida voters are overwhelmingly likely to pass the amendment this time, with nearly three-quarters of likely voters supporting the measure.
 
Voters will vote on the amendment during the general election on Nov. 8.