New Hampshire: House Committee Approves Bill To Decriminalize Marijuana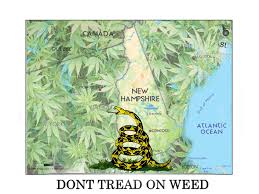 By Derrick Stanley
Hemp News
The New Hampshire House Criminal Justice and Public Safety Committee Tuesday voted 12-7 to approve a bill that would make possession of less than one-quarter ounce of marijuana a violation similar to a speeding ticket.
The proposal changes Senate Bill 498, which would allow prosecutors and judges to use discretion in charging and sentencing first-time offenders by reducing the penalty from a class A misdemeanor to an unspecified misdemeanor.
Last week the Senate voted down a House-passed bill that would have made possession of less than one-half ounce of marijuana a violation.
SB 498 now resembles a compromise between the House and Senate that fell apart at the end of last session.
The amendment's sponsor, Rep. Renny Cushing, D-Hampton, said under the Senate bill possession of a small amount of marijuana remains a criminal offense, while his proposed change would bring New Hampshire in line with the other New England states.
Under the bill, only the first possession would be a violation with a fine of not more than $500. A second conviction within three years would be a misdemeanor.
Someone under 18 years old would have to perform 35 hours of community work and could be ordered to attend a treatment program.
Anyone under 21 years old could lose their driver's license if convicted for a first-time offense.
The intent of the bill is to ensure a first-time offense does not result in a criminal record with the harsh consequences of being denied student financial aid, or housing, employment and professional licenses, supporters said, while allowing law enforcement to use their limited resources for more serious crimes.
The bill will come before the House next month.