Missouri: Kansas City's New Marijuana Law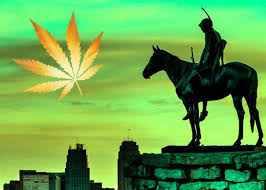 By Derrick Stanley
Hemp News
Kansas City voters overwhelmingly approved reducing penalties for marijuana possession on 4/4/17, and the new city law has already taken effect. Voters approved an initiative that reduces the maximum fine in city court from $500 to $25 and eliminates possible jail time as a penalty for possessing 35 grams or less of pot, about 1 1/4 ounce.
However, marijuana possession is still illegal, and a guilty plea would involve a drug conviction.
The law took effect the day after the election, on 4/5/17. It affects any Municipal Court case that was open or active at that time. It limits the maximum fine to $25 for a single count of simple pot possession, but court costs of $48.50 per count still apply.
Julita Lattimer is a board member of the Kansas City chapter of the National Organization for the Reform of Marijuana Laws (KC NORML), the organization that advocated and petitioned for this law. Latimer explained, "Our whole point was to keep people out of jail for a non-violent infraction. One of the best things that has come out of this , is its getting people to talk about cannabis. More people are wanting to hear about the benefits of cannabis. It will help as we work to bring medical cannabis to Missouri. "
Executive Director of KC NORML, Jamie Kacz, added, "Nearly 1000 people are arrested in Kansas City each year for cannabis possession and NORML KC's main goal in creating this initiative was to eliminate jail time in Kansas City for cannabis possession. With Question 5 passing by an overwhelming support of 74%, this proves that Kansas City marijuana advocates were more than ready to take a stand against these unjust laws. In the upcoming weeks, NORML KC will continue to work with city officials to ensure proper implementation of this new ordinance and encourage the City Council to revise their contract with Legal Aid."