New Mexico: McDonalds Cannabis Billboard Near Colorado Border Goes Viral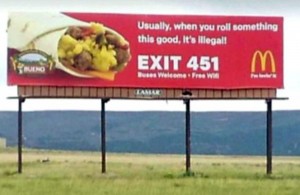 By Michael Bachara
Hemp News
A cannabis billboard near Raton, New Mexico has a lot of people talking on the Internet. The billboard, which has since been taken down, stated, "Usually, when you roll something this good, it's illegal," and showed a Bueno green chile breakfast burrito.
The billboard, was for a McDonald's on Clayton Road in Raton, just off exit 451 of Canam Highway.
Melissa Grubelnik, the Tourism Coordinator of the Raton Chamber of Commerce, said the chamber "sees the humor" in the sign, considering the city's proximity to Colorado. "We do not have a problem with it," Grubelnik said. "We hope it encourages people to stop at our newly renovated McDonald's."
One Facebook photo, shared by Lamar New Mexico-El Paso, the advertising company that put up the sign, was shared nearly 2,000 times.
According to KRQE, the marijuana billboard "has people laughing and many saying its placement is key."
McDonald's corporate office provided a statement saying the sign was taken down because "this local franchise's billboard does not meet our standards."
In January of 2014, recreational marijuana use became legal in Colorado adults 21 or older. In New Mexico, recreational use remains illegal, where possession of small amounts is a misdemeanor. Doctors are permitted to recommend marijuana for certain medicinal purposes.