Illinois: Poll Shows Majority Of Illinois Supports Legalizing Marijuana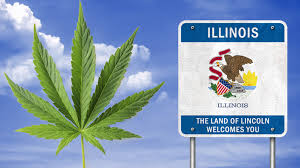 By Derrick Stanley
Hemp News
A new poll shows that a majority of Illinois voters support legalizing marijuana, following the introduction of two bills into the General Assembly proposing legalization.
The poll from the Southern Illinois University - Carbondale Paul Simon Public Policy Institute showed that 74.4 percent of Illinois citizens are in favor of legalizing marijuana for adult recreational use. Only 21 percent are opposed, and 4.6 percent either don't know or refused to answer the poll.
The Simon Institute said it collected data from live telephone interviews collected between March 4 and March 11.
State Rep. Kelly Cassidy and State Senator Heather Steans introduced identical pieces of legislation into both chambers of the General Assembly on March 22. Both lawmakers said the tax revenue from legal recreational marijuana could help with the state's budget deficit.
The bills are SB316 and HB2353.