U.S.: New White House Drug Czar Has Quite An Idea Where To Put Nonviolent Drug Users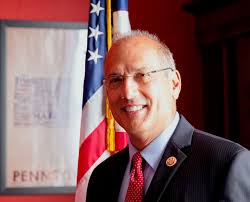 By Derrick Stanley
Hemp News
Rep. Tom Marino (R-Pa.) will be President Trump's drug czar, CBS News reports. Marino's congressional voting record shows he is a hard-liner on marijuana issues and he recently said that he'd like to put nonviolent drug offenders in some sort of "hospital-slash-prison."
Marino will oversee the Office of National Drug Control Policy, a branch of the White House that advises the president on drug policy issues. Whereas the office under President Obama quite publicly retired the phrase "war on drugs," Trump's attorney general, Jeff Sessions, is moving to put criminal justice back at the forefront of drug policy.
Although Marino seems to share that view, his views are unlikely to influence the administration's policy in the same ways Sessions's views do. The drug czar's office has traditionally played a limited role in setting policy. It coordinates drug control strategy and funding across the federal government instead.
In Congress, Marino voted several times against a bipartisan measure to prevent the Justice Department from going after state-legal medical marijuana businesses, a measure which eventually passed.
He voted against a measure to allow Veterans Affairs doctors to recommend medical marijuana to their patients, as well as against a separate measure to loosen federal restrictions on industrial hemp.
Marino told a reporter last fall that "the only way I would agree to consider legalizing marijuana is if we had a really in depth-medical scientific study. If it does help people one way or another, then produce it in pill form." But, he added, "I think it's a states' rights issue."
Marino called for a national program of mandatory inpatient substance abuse treatment for nonviolent drug offenders. "One treatment option I have advocated for years would be placing non-dealer, nonviolent drug abusers in a secured hospital-type setting under the constant care of health professionals," he said at a hearing last year.
"Once the person agrees to plead guilty to possession, he or she will be placed in an intensive treatment program until experts determine that they should be released under intense supervision," Marino explained. "If this is accomplished, then the charges are dropped against that person. The charges are only filed to have an incentive for that person to enter the hospital-slash-prison, if you want to call it."
Forced inpatient treatment in a hospital-slash-prison would include the 79 percent of marijuana users who are not abusers, and do not need treatment for drug abuse.
Marino acknowledged that implementing such a policy nationwide would "take a lot of money." Whether he'll push for such a program as drug czar remains unknown at this point.