Pennsylvania: NFL Hall of Fame Linebacker Jack Ham Working To Strengthen Cannabis Advocacy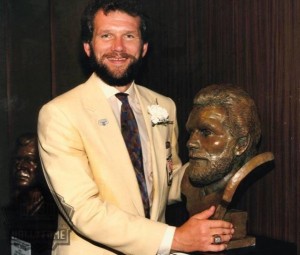 One of the greatest outside linebackers in the history of the NFL has become an advocate for medical cannabis in Pennsylvania
By Michael Bachara
Hemp News
Legendary Pittsburgh Steeler and 1988 Pro Football Hall of Fame Inductee, Jack Ham plans to serve as a spokesperson and consultant for AgriMed, which is one of several hundred companies vying for one of 12 licenses to grow and provide medical marijuana in Pennsylvania.
While Ham is partially advocating for the company because he wants to see jobs return to Greene County, where its operation would be located, he also believes it is time for the NFL to take a more open stance on the drug.
"We've got to find an alternative for opioids," Ham said. "It's long past time to take a closer look at medical cannabis and all the ways it might help people in pain - and football players are in pain."
"I'm not talking about people getting high, doing recreational drugs," Ham said."This is about medicine and giving patients an alternative option to manage pain and other medical complications that arise from cancer treatment, and other problems."
NFL commissioner Roger Goodell has steadfastly refused to change the league's stance on cannabis - its use is not permitted even where legal, and the league tests for it regularly and can suspend players - saying its medical advisors are against an adjustment to the policy.
As many cities continue to grapple with crippling addiction and drug-related overdoses – for many communities an all-time high – Ham hopes "to help people be more aware there are other options out there rather than continuing to mask problems with painkillers and opiates."
Ham said of the foot injury that stopped him from playing Super Bowl XIV – he wished that there had been legal alternatives to the painkillers prescribed to treat his pain.
Ham, who was given painkillers during his playing career, knows former players who've become addicted. "This is something former players talk about whenever we get together," Ham said. "We know the toll the game takes, and we need to do everything we can to deal with that in the safest way possible."
"I didn't have any alternatives to consider during that period of time. The medication was almost as bad as the initial surgery on my foot. It didn't bring me the relief I really wanted," he explained. "I can see myself down the road here – yes, without question – taking medical marijuana for any kind of a pain situation I have as I go further in life."
Ham's former teammate, running back Franco Harris, is also working with a company that has proposed to establish a similar cannabis grow operation in Braddock.
Photo Source: Pro Football Hall of Fame