Oregon: Portland Hempstalk Festival Moves to Tom McCall Waterfront Park This Weekend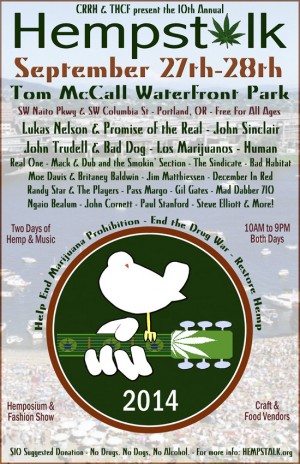 City of Portland Issues Permit
It's a go for the 10th annual Portland Hempstalk Festival; after months of delay, city officials have finally issued a permit for this weekend's event.
"Event coordinators for the Portland Hempstalk annual festival are proud to announce the City of Portland has issued our permit for this weekend's event (September 27-28) at Tom McCall Waterfront Park in Portland, Oregon," a press release from the Campaign for the Restoration and Regulation of Hemp (CRRH) reads.
Hempstalk advocates decriminalization of cannabis for medicinal, industrial, and recreational use. Founded in 2005 by The Hemp and Cannabis Foundation, the festival features live music, guest speakers, food and goods vendors and information booths.
This public event has always been free to attend, with a suggested donation of $10 per person.
Featuring three stages, the Jack Herer Main Stage, the newly added Green Goddess Stage, and the Elec-Chronic DJ Stage, the bands, music and informational guest speakers are sure to inspire and inform attendees.
Already confirmed on the musical bill for 2014 are Lukas Nelson & Promise of the Real, John Trudell and Bad Dog, Herbivores, Los Marijuanos, Poet and Cannabis Advocate John Sinclair, The Sindicate, J Mack and Big Dub, Bad Habitat and more. To view the complete line-up, check out http://hempstalk.org/festival/lineup
Hempstalk guest speakers for this year will include The Hemp and Cannabis Foundation (THCF) and CRRH Director Paul Stanford, Hemp News editor and Little Black Book of Marijuana author Steve Elliott, renowned author Chris Bennett, Parents 4 Pot's Anna Diaz, attorney Bradley Steinman, and more. Hempstalk will be emceed by well-known cannabis comic and media personality Ngaio Bealum.
"This year's festival is not intended as a 'smoke out' and will be a non-smoking event," reads a statement from CRRH. "We want our focus to remain, as always, on freedom of speech to address our unfair and unjust laws against the cannabis plant. If are a medical marijuana patient and you need to medicate, please do so before arrival to or after departure from the event."
See you in Portland!