Washington: Spokane Considers Testing Sewage To Measure Marijuana Use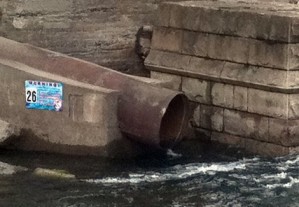 By Steve Elliott
Hemp News
Alison Holcomb trusts poop more than people. The author of Washington state's recreational marijuana law has suggested that the city of Spokane test its sewage for traces of cannabis in order to more accurately measure use by residents.
Holcomb, a lawyer with the ACLU, proposed the idea at a Tuesday meeting of the Spokane City Council's marijuana policy subcommittee, reports the Associated Press.
About 50 city leaders and residents make up the subcomittee, which attempts to deal with what cannabis legalization means for Spokane, a city of about 210,000, reports Jessica Glenza at The Guardian.
"We don't have really good data on usage and perceptions of harm," said city councilman Jon Snyder. "It's funny how the sewage thing has really captured people's imagination."
A University of Washington scientist liked the idea. "It's always good for a chuckle, but it actually does work," said Caleb Banta-Green, a researcher at the UW's Alcohol and Drug Abuse Institute.
Banta-Green, an epidemiologist, has tested sewage in Oregon and Washington for the presence of hard drugs like methamphetamine and cocaine. "In some ways, I think my most surprising finding is that it works," he said.
"When I first heard about it I was skeptical," Banta-Green said. "I thought, 'How is this going to be sensitive enough?'" He and two chemists teamed up to study tiny quantities of drug metabolites in sewage, measuring parts per billion with a mass spectrometer.
Holcomb said on Wednesday that testing sewage for THC provides a more accurate measure of usage trends than self-reporting on surveys, in which people are asked about their marijuana use. People often give inaccurate information when questioned about smoking pot, she said.
"We can expect to see more honesty" in the sewage than from people, Holcomb said, revealing a rather discouraging but possibly accurate worldview.
We can learn a lot by testing for the presence of drugs in sewage, according to Banta-Green. Testing would provide a more accurate picture of the quantities of various drugs a community is consuming, he said, and would even provide, over time, a picture of which days people use more heavily.
Banta-Green's Oregon tests, for example, showed that methamphetamine users tended to consume meth every day, while cocaine users concentrated their consumption on weekends, he said.
In another study, chemist Daniel Burgard, a researcher at the University of Puget Sound in Tacoma, tested sewage donwnstream from a college campus for the metabolites of amphetamines used as "study drugs," Ritalin and Adderall. "The amphetamine levels go through the roof during finals," Burgard told Environmental Health News in January.
Holcomb said Washington policymakers are very interested in knowing whether legalization will result in increased marijuana use. "Looking at wastewater gives us a more accurate way to observe trends," she said.
"If we store those samples now, we might be in a better place in two years to calibrate those samples," Banta-Green said, explaining that the sewage and be frozen and tested later.
Photo: The Spokesman-Review