Washington: Marijuana Retailers Hope Harvest Will Lower Prices, Combat Black Market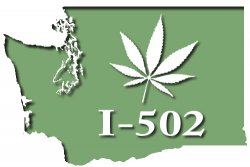 By Steve Elliott
Hemp News
With licensed producers of marijuana bringing in autumn's outdoor harvest, retailers who own the recreational cannabis stores created by limited legalization measure I-502 are hoping to lower prices enough to diminish the black market -- which was one of the main justifications for the law passed by state voters two years ago.
But the most that store owners like Mary Van de Graaf, owner of Mill Creek A, one of two licensed marijuana shops in Union Gap, can hope for is making a bit of a dent. "We'll slow it down, yeah,"
Van de Graaf said, reports Ross Courtney of the Yakima Herald-Republic.
So far, even I-502 store owners like Van de Graaf have to admit that legalizing recreational marijuana has done almost nothing to combat black market street sales, where dealers don't pay taxes or check the ages of their customers.
Washington's brand of limited "legalization" apparently hasn't yet made any dent at all in illegal grows. In fact, there's an increase this year in illegal grows on tribal lands, public lands and in back yards, according to Jodie Underwood, a spokeswoman for the federal Drug Enforcement Administration's regional office in Seattle.
On Monday, law enforcement confiscated 20 pounds of processed marijuana and 43 plants in Zillah, Washington; police arrested two men the same day for stealing medical marijuana from a home in Selah.
"I have customers come in and say they would like to buy from me, but it's just so much cheaper on the black market," Van de Graaf said.
So can a system of "legalization" truly said to be working when its taxes and regulatory structure are so onerous that few consumers want to pay $25 to $40 a gram for the product?
Clients have so far been predominantly affluent, and predominantly visitors, according to Van de Graaf. Many prospective buyers come into the stores, look at a few flowers and say they "like the idea" of buying legally, but admit they plan on sticking with "knowing a guy" until prices come down to something resembling reasonable.
Retailers are reportedly paying $8 to $15 per gram -- ironically, about the same price as both black market street marijuana and cannabis bought from medical dispensaries. But that's retail, mind you -- and they need a mark-up to stay in business.
Store owners then charge $25 to $40 a gram to cover payroll, operating expenses and taxes. The state charges a 25 percent excise tax on all retail sales, and the federal government charges store owners income tax but allows no deductions (marijuana is still illegal under federal law).
Van de Graaf and her competitors hope the extra supply from outdoor, sun-grown harvests will allow them to cut prices sometime this fall. "That's when we foresee the price coming down is when the outdoor stuff starts harvesting," said Tim Thompson, owner of Altitude in Prosser.
They hope, at that point, to finally start luring at least a few customers away from the much less expensive black market. "I think at $15 (per gram) we would," Thompson said hopefully.
Adam Markus, who owns Station 420 in Union Gap, predicts prices will drop by half -- but not for long. He expects prices will go back up again once retailers sell out of outdoor-grown weed. "I hope I'm wrong," he said.
Graphic: Seattle Speedball