Texas: Dallas County To Experiment With Not Arresting People Caught With Weed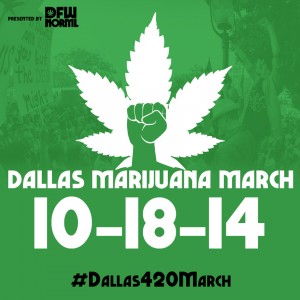 By Steve Elliott
Hemp News
People caught with small amounts of marijuana in Dallas may soon be able to avoid going to jail.
County criminal justice officials will pilot a cite-and-release program early next year allowing those caught with less than two ounces of marijuana, a Class B misdmeanor, avoid a trip to jail, reports Matthew Watkins at The Dallas Morning News.
If applied countywide, the change in enforcement policy could result in hundreds fewer arrests each month. The goal, according to officials, is to reduce jail crowding and free up police resources.
"This is about not toying up officers and bringing them back out onto the street," said Ron Stretcher, director of criminal justice for Dallas County.
A Texas law enacted back in 2007 makes the ticket approach possible. The measure, which received little attention when it passed, has been largely ignored since.
The the idea has gained support in recent years, and not just from marijuana advocates. Some conservatives have touted it as a way to save law enforcement money. It costs about $63 a day to house an inmate in the Dallas County Jail.
But the measure is getting some predictable resistance from law enforcement. Dallas Police Association President Ron Pinkston said he'd rather see the Legislature address changes in marijuana laws at the state level; police officers should enforce the laws that are on the books, he said.
"Our job is to provide customer service to the citizens of Dallas, and they expect me to make an arrest [for marijuana possession]," Pinkston claimed.
County leaders claimed the new approach wouldn't amount to marijuana decriminalization. Those cited would be required to appear later in court.
The maximum punishment for less than two ounces of marijuana -- 180 days in jail and a $2,000 fine -- would not change. But the new rules would likely mean most first-time offenders wouldn't be jailed.
First-time pot offenders already usually receive community service in Dallas County, along with a fine and a mandatory class on drug abuse. Those who complete the requirements and test clean can have the charge removed from their record.
Details of the proposed cite-and-release policy are being worked out in meetings involving judges, prosecutors and police. The cops say they need to figure out how to ensure that people being cited are who they say they are.
Police also fret that people will skip their court dates for pot possession. The county encountered such a problem a few years ago when it tried a similar system for other misdemeanors, such as theft and criminal mischief. This time, the policy would apply only to marijuana arrests.
So far, Travis County is the largest in the Lone Star State to implement a cite-and-release program for marijuana. It's also in place in Midland County and Hays County. Hays County home of San Marcos, has 95 percent of defendants show up, reports Eric Nicholson at the Dallas Observer.
The approach is a success, according to Travis County officials. More than 4,500 people were ticketed there for marijuana possession in 2012; give that it takes two to three hours to book a suspect into the Travis County Jail, that means law enforcement officers saved about 11,300 hours of work.
"Our agency supports it," said Roger Wade, a spokesman for the Travis County Sheriff's Office. "We'd like to see it expanded."
On Saturday, October 18, DFW NORML will present the 2014 Dallas Marijuana March. Featuring speakers, live music, vendor booths and a march against cannabis prohibition, this is the much anticipated followup to the Fort Worth Marijuana March held back in May, where more than 2,000 Texans marched through the streets for marijuana with zero arrests made.
The location will be announced in the coming days but the date and times are set. "This is a free to attend, family friendly event so invite everyone you know and together we'll continue ending cannabis prohibition one Texan at a time," DFW NORML announced in a prepared statement.