California: Exhale Med Center Offers Highest Tested and Rare CBD Strain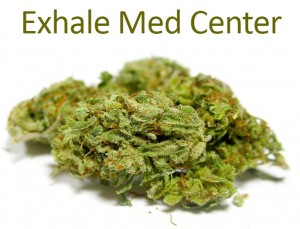 Pioneers in cultivating CBD (cannabidiol) genetics for over two years, Exhale Med Center, the #1 rated medical marijuana shop on Yelp, carries one of the rarest strains of CBD-rich cannabis found today, called "CBD Web." This strain contains 16 percent CBD to 2 percent THC, a ratio high enough to comfort the parents of a sick child suffering from epilepsy, giving them the confidence that the child will not feel high while reaping the medicinal rewards.
CBD Web is a constant at Exhale Med Center, in addition to three variations of CBD-rich strain genetics, CBD edibles, tinctures, creams, Rick Simpson Oils, and many different forms of concentrates. With last year's release of Dr. Sanjay Gupta's CNN Special Weed, a demand has been created for highly concentrated CBD products that will help patients' symptoms without giving them a psychoactive high.
Known as one of the elite shops in Los Angeles, Exhale Med Center is a Prop D compliant, "Pre-ICO," medical marijuana pioneer, offering one of the best selections of strain variations in town, in every price range. From high-end indoor sativas and hybrids from the Bay Area and top shelf indicas from SoCal to the outdoor and green house varieties from Northern California's 'Emerald Triangle', Exhale says its range of more than 50 strains offers a quality remedy for most ailments. This December will mark their first year anniversary in their new zone-compliant location at 980 North La Cienega Blvd, Suite 102, Los Angeles, CA 90069.
"Our members choose us for variety of reasons – our excellent record of compliance with state and local law, our professionalism, quality and selection, discount programs, incredible selection, low prices and more," said Dimitry Muzychuk, owner and operator of Exhale Med Center.
Exhale Med Center is proud to announce they are celebrating the completion of their first year working with Cali Vet Meds, a nonprofit organization aiming to provide free medical marijuana medicine to all registered US veterans. Any veteran is welcome, and upon registering with their collective, they will receive five grams of complimentary top shelf indoor grown medical marijuana.
"That's our mission, to offer veterans a safe alternative to the dangerous prescription drugs that they're prescribed to deal with PTSD, TBI, chronic pain, and all sorts of other ailments," Dimitry said.
Medical marijuana is a hot subject all over the United States, with more and more states committing to decriminalization and the drafting of medical marijuana laws, while others are looking further into recreational legalization. "We take pride in helping our patients through the difficulties in their lives and seeing the many positive effects that MMJ has had on them," Muzychuk said.
Serving Los Angeles and its surrounding communities for seven years, Exhale Med Center is one of 134 fully Prop D compliant Pre-ICO medical marijuana dispensaries in the area
For more information about Exhale Med Center, please call (424) 279-9497.