U.S.: Federal Court To Hear Evidence On Whether Marijuana Is Misclassified As Dangerous Drug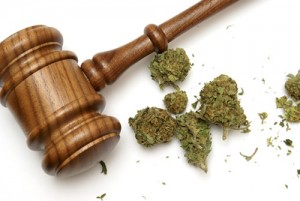 Meanwhile, federal Drug Enforcement Administration carries out latest raid on Los Angeles area medical marijuana dispensaries
The U.S. District Court for the Eastern District of California will hold rare formal hearings beginning Monday, October 27, to determine whether an indictment against Brian Justin Pickard and others for conspiracy to grow more than 1,000 marijuana plants violates the U.S. Constitution, and whether marijuana is misclassified by the federal government as a dangerous Schedule I drug with no medical value.
What: Evidentiary hearing with several expert witnesses to review the classification of marijuana as a Schedule I substance
When: Starting Monday, October 27, 9 am and continuing to Wednesday, October 29
Where: Sacramento Federal Court, 501 I Street, Sacramento, Californbia
U.S. District Court Judge Kimberly J. Mueller will preside over the three-day hearing, which includes expert testimony from Drs. Carl Hart, associate professor of psychology in the Department of Psychiatry and Psychology at Columbia University in New York City, Greg Carter, medical director of St. Luke's Rehabilitation Institute in Spokane, Washington, retired physician Phillip Denny, as well as author, consultant, and expert witness Chris Conrad.
Bertha Madras, Ph.D., professor of psychobiology at Harvard Medical School and formerly with the White House Office of National Drug Control Policy under President George W. Bush, will testify on behalf of the government. Dr. Carter is scheduled to testify Friday at 1:30 pm due to a scheduling conflict.
The evidentiary hearing was granted by Judge Mueller after attorneys Zenia Gilg and Heather Burke filed a motion in November 2013 to dismiss the charges against their client Pickard on grounds that the indictment is unconstitutional. The defense attorneys are arguing that "marijuana does not fit the criteria of a Schedule I Controlled Substance," and shouldn't have been used to target their client. The original indictment was filed against Pickard and 15 others in October 2011.
This review of marijuana's classification under federal law come as the Drug Enforcement Administration (DEA) on Thursday raided two medical marijuana dispensaries located in West Hollywood and Westwood, California. So far, no explanation was given by the DEA for raiding the Farmacy, which operates both facilities in accordance with local and state laws.
Recently, Attorney General Eric Holder spoke with Katie Couric and questioned whether "marijuana is as serious a drug as heroin." Holder went on to say that science should be used as the basis for determining whether marijuana and heroin should be in the same category.
Yet, despite policy memoranda, and public statements by the President and his administration indicating different enforcement priorities, the Department of Justice (DOJ) continues to raid and prosecute people engaged in lawful medical marijuana activity.
The Kettle Falls 5, a widely watched case against a family in eastern Washington, in which each defendant faces at least 10 years of mandatory minimums, continues to be aggressively prosecuted by the DOJ. The trial date in that case is currently scheduled for December 1.
Around the same time, the U.S. Senate is expected to take up budget bills that were put on hold earlier this year, one of which contains a measure approved by the House to restrict DOJ enforcement funds in medical marijuana states.
The states of Colorado, Rhode Island, Vermont, and Washington filed petitions to reschedule marijuana for medical use in 2011. Those petitions are still pending with the DEA.
Graphic: CS Indy