Uruguay: Presidential Candidate Wants To Roll Back Marijuana Legalization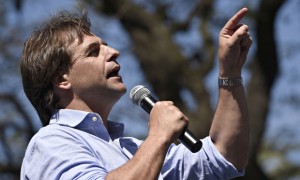 By Steve Elliott
Hemp News
Uruguay's leading opposition candidate for President said he would try to repeal much of the country's historic marijuana legalization law which allows the commercial cultivation and sale of cannabis if he wins Sunday's election.
The South American nation became the first in the world to officially allow the production and use of cannabis, but almost two-thirds of Uruguayans oppose the experiment which aims to take control of the marijuana trade away from drug gangs, reports Esteban Farat at Thomson Reuters.
But notably, even the candidate in question, Luis Lacalle Pou of the centrist National Party, would still allow home cultivation and cannabis clubs.
"I will keep the law's articles that allow users to grow their own cannabis at home and authorize smoking clubs and repeal the rest, in particular the state's commercialization of the drug," Lacalle Pou said.
"I will send a bill to Parliament to repeal it," he said. "We will need a majority in Parliament, and I will look for support.
Polls show Lacalle Pou trailing the left-wing candidate for the Frente Amplio (Broad Front) party, Tabare Vazquez, who has backed the legalization law.
Photo of Luis Lacalle Pou: Xinhua News Agency/Rex