Maine: Backers of Lewiston Marijuana Initiative To Launch Mobile Billboard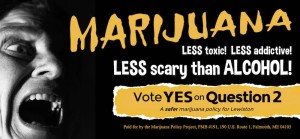 Halloween-themed Mobile Billboard Highlights the Relative Safety of Marijuana Compared to Alcohol
Billboard satirizing 'Reefer Madness'-style propaganda comes as opponents ramp up efforts to scare voters into keeping marijuana illegal for adults; ad calls Question 2 '[a] safer marijuana policy' because it would allow adults to use a substance that is, 'Less toxic! Less addictive! 'Less scary than ALCOHOL!'
Backers of the initiative to make marijuana legal for adults 21 and older in Lewiston, Maine, will launch a Halloween-themed mobile billboard on Tuesday that highlights the relative safety of marijuana compared to alcohol. The Marijuana Policy Project (MPP) will hold a news conference in front of the billboard at 10 a.m. ET in Heritage Park. The ad will run through Halloween.
The orange and black billboard, which satirizes "Reefer Madness"-style propaganda, comes as opponents of Question 2 are ramping up efforts to scare voters into keeping marijuana illegal for adults. It features a screaming face and reads, "MARIJUANA: LESS toxic! LESS addictive! LESS scary than ALCOHOL!"
It calls Question 2 "[a] safer marijuana policy for Lewiston" because it would allow adults to make the safer choice to use marijuana instead of alcohol, if that is what they prefer. Facts regarding the relative safety of marijuana compared to alcohol are available at http://www.MarijuanaIsSafer.org .
Question 2 would make possession of up to one ounce of marijuana legal for adults 21 years of age and older. It would remain illegal to use marijuana in public.
The measure also expresses support for ending marijuana prohibition in Maine and regulating and taxing marijuana like alcohol at the state level.
"The same fear-mongering and misinformation that were used to make marijuana illegal 80 years ago are being used to keep marijuana illegal today," said MPP Maine Political Director David Boyer. "Opponents of Question 2 are trying to scare people into thinking marijuana is so dangerous that even responsible adult use must be illegal, when in fact it is far safer than alcohol.
"There is a mountain of evidence that demonstrates marijuana is less toxic, less addictive, and less likely to contribute to violence," Boyer said.
"Our goal is to make Lewiston voters ask themselves just what is so scary about adults privately using a less harmful substance than alcohol?" Boyer said. "We think most will agree that it's time to get over the 'Reefer Madness' and adopt a marijuana policy that is based on facts, not fear."
WHAT: News conference to launch Halloween-themed "Yes on 2" mobile billboard that highlights the relative safety of marijuana compared to alcohol
WHEN: Tuesday, October 28,10 a.m. ET
WHERE: Heritage Park, 60 Main St., Lewiston
WHO: David Boyer, Marijuana Policy Project