U.S.: Willie Nelson Says Obama 'May Be Happy' About DC Marijuana Legalization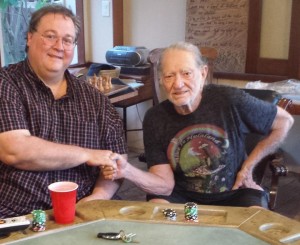 By Steve Elliott
Hemp News
President Obama "may be happy" that D.C. voters legalized marijuana in the nation's capital, according to country music legend and stalwart cannabis supporter Willie Nelson.
Nelson, who performed Thursday night at the White House for veterans, says he once smoked a joint on top of the presidential mansion after an appearance there during President Jimmy Carter's administration, reports Aaron C. Davis at The Washington Post.
The country music icon, a close personal friend of Paul Stanford and the Campaign to Restore and Regulate Hemp (CRRH), has given ringing endorsements to the political initiative work of CRRH.
Nelson said in an interview with CNN that he probably wouldn't bring up the topic of marijuana to Obama on Thursday night, but thinks the President is probably sympathetic to the cause.
"I think I realize how he feels about it and I've read some of his books and things about when he was a kid, how he may have delved into that matter a little bit," Nelson said. "I'm sure he's very understanding of what is going on and he may be happy to see it happening."
Last week, President Obama joined Nelson onstage for an all-star version of Willie's hit "On The Road Again," reports Billy Dukes at Taste of Country. Originally slated to just introduce Nelson, Obama decided to stick around and sing.
Obama wrote about using cannabis in his best-selling book Dreams Of My Father. In 2012, Washington Post associate editor David Maraniss published a book detailing how Obama and his high-school buddies smoked marijuana frequently enough to nickname themselves the "Choom Gang."
Almost 7 in 10 D.C. voters backed a ballot initiative to allow marijuana to be consumed and cultivated in the nation's capital. If Congress doesn't block the measure, residents and visitors 21 and older will be allowed to possess up to tw2o ounces and grow as many as three plants at home.
Photo: CRRH founder Paul Stanford with country music legend Willie Nelson