U.S.: Bob Marley's Son Launching Line of Premium Marijuana Products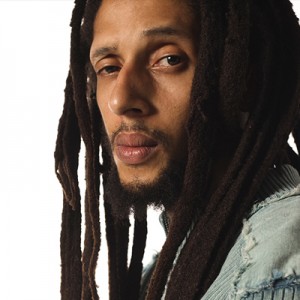 With four states plus D.C. now having legalized marijuana, Julian Marley, the son of legendary reggae artist Bob Marley, will be the featured likeness on a new line of premium cannabis products.
Julian continues to speak out in favor of decriminalizing marijuana and promote its healing benefits. Kingsley Brand, LLC, licensor of Julian Marley's likeness and trademark name, has exclusively partnered with Drop Leaf, LLC to promote the movement to decriminalize marijuana and promote its healing benefits with the launch of a new product line, Julian Marley JUJU Royal Premium Marijuana.
In the next few months Drop Leaf announced it will introduce to the market several signature strains of marijuana in addition to other products under the Julian Marley JUJU Royal Premium Marijuana brand name. They will be working with DNA Genetics, the industry's leading developer of marijuana strains, to create high quality strains to serve medicinal and recreational users.
Drop Leaf and DNA Genetics are currently conducting research and development with certain origin seeds to produce their own signature Julian Marley strain for the Julian Marley JUJU Royal Premium Marijuana collection with hopes of making these strains available to dispensaries, caregivers, and worldwide where it is Legal.
Julian stated "I am happy to speak out in favor of decriminalization and I salute Drop Leaf as a proud participant in the movement and struggle to make this natural super plant available for all who need it and it's healing properties." Julian went on to say that he is excited about the work of DNA Genetics' development of Julian Marley JUJU ROYAL strains for Drop Leaf.
As views of marijuana have shifted in recent years in favor of the plant, more people are learning that it is one of the most powerful healing plants on earth. Many who support the legalization of marijuana have cited studies that have found this plant to suppress cancer, reduce blood pressure, treat glaucoma, alleviate pain, and even inhibit HIV.
After being impacted by his father's passing due to melanoma, Marley strongly supports the fight to legalize marijuana, especially to benefit patients who suffer from cancer and other ailments that could be aided with the plant's healing components.
In this spirit a portion of the proceeds from the Julian Marley JUJU Royal Premium Marijuana brand will be donated to several cancer related foundations/charitable organizations that are currently being evaluated.
"We are excited to be working with Drop Leaf on the Julian Marley JUJU Royal signature strain," said a DNA Gennetics spokesperson. "The chance to create this strain is a great honor and privilege."
DNA Genetics has won more than 125 awards for their contributions to the cannabis industry throughout the world. DNA is an eight time winner of the Illustrious High Times "Top 10 Strains of The Year" award, the only seed company to have received every award presented at the High Times Cannabis Cup events, and was inducted into the High Times Seed Bank Hall of Fame in 2009.
Photo of Julian Marley: Jamrock Reggae Cruise