Oregon: Cannabis Activists Cite Freedom of Religion In Grant County Case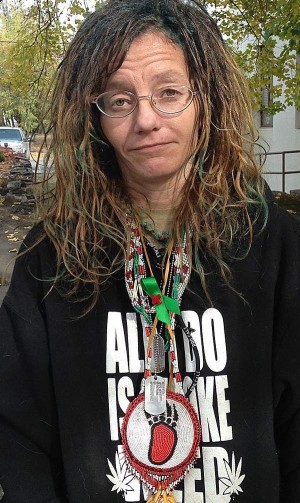 By Steve Elliott
Hemp News
Photo of Joy Graves by Scotta Callister/The Blue Mountain Eagle
Two Oregon activists who was busted for a 13-plant cannabis patch last June are arguing that charges should be dismissed on the grounds of freedom of religion.
Attorneys for Joy Graves and Raymond Martin argued that it wasn't an illegal marijuana grow, but rather a sacramental cannabis garden protected by the law and used in the rites of their branch of the Oklevueha Native American Church, reports The Blue Mountain Eagle.
Martin's attorney, Robert Raschio, and Graves' attorney, Timothy Gassner, argued that the case conflicts with their clients' right to religious freedom. But Deputy District Attorney Matthew Ipson said that state law prohibits marijuana grows within 1,000 feet of schools as "a statute of general applicability."
In court filings, Ipson argued the state's interest in restricting marijuana near schools is compelling, and that "the statute is applied equally without regard to religious beliefs or affiliation."
The case began back on June 14 when a Grant County Sheriff's deputy showed up at a property in Seneca to check out a marijuana grow after hearing about it while pumping gas in the area. Two men described as caretakers, Martin, 36, of Cameron, Mo., and Kenny Walters, 42, of Walla Walla, Wash., were arrested after they couldn't produce medical paperwork. Walters left the area and could not be found.
In July a grand jury also indicted property owner Graves on a charge of manufacturing marijuana within 1,000 feet of a school. The indictment was ironically obtained on Graves' birthday.
The case soon turned into a legal battle over religious freedom and the discrepancies between state and federal laws regarding marijuana.
According to attorney Raschio, the Native American Church uses cannabis "in the sincere practice of its religious principles." He noted that the federal government allows religious use of peyote in Native American services, and mainstream churches are allowed to give wine to minors for communion rites.
Attorney Gassner said the state has no compelling interest in stopping Graves' religious use of marijuana.
A November 4 hearing included telephoned testimony from Native American Church founder James Flaming Eagle Mooney of Utah, who said cannabis has been used "for thousands of years" in religious ceremonies.
"Among James' most powerful points, in my personal opinion, aside from the validity of the church, of course, was when he explained the 14-point system of the IRS, and how the Native American Church in fact meets ALL 14 of those standards -- not even the Catcholic Church meets all 14 of them!" Graves told Hemp News.
Graves took the stand at the November 4 hearing, testifying that she uses both cannabis and tobacco along with meditation and prayer in a variety of religious rites. "We say we make smoke," she said.
Joy testified she has been "a frontline cannabis fighter" for more than 30 years, and that she established her branch of the Oklevueha church in 2013. She said cannabis saved her life, and is also providing a better path for Martin after a troubled past.
"The most pertinent testimony I feel I emphasized was that the state, including this court, the sheriff's department, D.A., etc., do NOT have jurisdiction," Graves told Hemp News. "My explanation to the court as to why this is fact was simple and direct: number one, we are a church (meaning we are to be governed by no man-made law, according to the laws governing this nation; and number two, that cannabis indica is not a federally controlled substance," she said.
"During the testimony, we were allowed to submit many documents into the record confirming the validity of our church, as a whole church body as well as my church specifically including federal recognition of both my and our mother church as well also as our doctrine which dates back to the early 1900s and has yet to change as our church's position in society, as our ancestors were so forced to officially establish and then declare they'd 'become' back in the mid 1700s to appease the new law enforcers of our land," Graves said.
"As indigenous Native born Americans, it is our birthright inheritance to not only utilize all earth-based medicines and sacraments, but it is our obligation to preserve them," Graves said, reports Salem News.
Graves said she is standing firmly upon the "Native American Land Use and Incarceration Act" as well as the "Religious Freedom Restoration Act", along with the First, Fourteenth, and other Constitutional amendments, rights and civil liberties.
Graves is confident that justice shall prevail: all charges against her as well as Martin will ultimately be dismissed.
"It's at what level and cost to tax payers that leaves me concerned," Graves said. "There was no crime here."
The next court date is scheduled for December 4 at 3:45 p.m., "if it's not resolved by then," the judge said. This will be Circuit Court at the Grant County Courthouse, 201 South Humboldt Street, Canyon City, Oregon.
"I encourage everyone who can be there for this next hearing as it's anticipated the case will be dismissed favorably to us," Graves said.
For more information regarding support for Joy and Raymond, visit http://www.thsintl.org/smarsall/joy_graves_court_support .