Colorado: These Are The Good Old Days - Things About To Change In Marijuana Market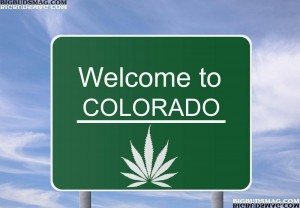 By Steve Elliott
Hemp News
This may be the golden age of marijuana in Colorado, and things are about to change.
Supply-and-demand is ever-so-slowly leading to lower prices on the recreational front, and legislative changes are in the offing that could make it more difficult for doctors to authorize medicinal cannabis for severe pain, reports Jeremy P. Mayer at The Denver Post. Voters could be asked to add a special tax onto medical marijuana, and there's even been some reckless talk about discontinuing medicinal cannabis altogether, lumping all cannabis sales into the recreational market.
"It is fluid," said Samn Kamin, a law professor at the University of Denver. "Everyone knew this was going to happen.
"This is the first-of-its-kind regulation," Kamin said. "We knew we weren't going to get everything right the first time."
Medical marijuana caregivers in Colorado may grow up to six plants for up to five patients, for a total of 30 plants, but some get a waiver to grow more. As of May, the state had about 5,000 registered caregivers.
A bill will be introduced in the Colorado Legislature next session to reduce the number of plants that caregivers can grow for their patients, and require the caregivers to go through a much more stringent approval process with state health officials.
Ninety-three percent of Colorado's 116,287 medical marijuana patients are authorized to treat "severe pain." The state now has improved scrutiny of physicians, flagging those with abnormally high numbers of medical marijuana recommendations or faulty documentation, according to Dr. Larry Wolk, director of the Colorado Department of Health and Environment.
"That is really who we look at as the potential for fraud, rather than the patients," Wolk said. "Whether a patient has that condition or not, it is up to the physician to document."
While Colorado's recreational marijuana rules allow patients to buy just one ounce of pot at the time, patients can buy two ounces at the time, with much lower taxes. In Denver, patients pay 7.62 percent in sales taxes, compared with recreational buyers who pay 21.12 percent. Those figures include state and local marijuana taxes and standard sales tax.
Amendment 20, Colorado's medical marijuana law, doesn't say anything about sales taxes, leaving the question up to the Legislature. Moral objections exist, however, to heavily taxing medicine.
"Practically speaking, the only reason you would tax medical marijuana is because you want it to be in the same competitive space as recreational marijuana," said Rep. Dan Pabon (D-Denver). Rep. Pabon said he wasn't sure there was support in the Legislature for taxing medical marijuana.
Wolk, of the Health Department, predicts a "harmonization" between medical and recreational markets, bringing tax rates, rules, quantities and age restrictions into concordance. But raising taxes on medical marijuana will start an ugly political fight, according to observers -- just as will likely occur when the state puts more restrictions on caregivers.
It's not very hard to imagine a scenario where seriously ill medical marijuana patients battling debilitating conditions are forced to beg lawmakers for tax relief, and decrying overly strict limitations on their caregivers who have faithfully served them for more than a decade.
Patients and caregivers in Colorado would do well politically organize and to look westward at the state of Washington, where recreational legalization measure I-502 seems likely to spell the end of that state's thriving medical marijuana community. Washington passed its medical marijuana law in 1998, and a dispensary scene sprung up after Obama's election, but the Legislature there seems intent on extinguishing the MMJ retail scene and forcing patients through recreational outlets.