Washington: Legal Marijuana Stores Having Trouble Matching Black Market Prices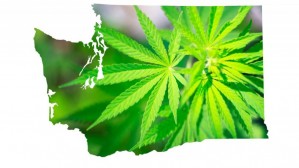 By Steve Elliott
Hemp News
Due to the onerous nature of Washington state's regulations on the legal marijuana industry, including an overbearing tax scheme, the legal marijuana stores which have opened as the badly written I-502 is implemented are reportedly having trouble turning a profit -- even at $30 a gram.
Despite brining in more than $440,000 in sales since July, Station 420 in Union Gap is still in the red financially, according to owner Adam Markus, reports Mike Fault at the Yakima Herald-Republic.
"We have yet to make a profit here," Markus said. "And there are a lot of other people who got into this just thinking they were going to be millionaires in a year, and now they're having a hard time."
Washington state had $15.6 million in marijuana sales in November, more than double the figures from August, and pot shop owners say prices have come down by as much as half since July as supplies have increased.
But then there's the pesky fact that the prices of legal weed are still roughly double to triple those on the black market. Consumers aren't morons, and if the "guy you know down the street" is selling righteous pot for $10 a gram (a typical price both on the street and in the medical marijuana community), who wants to pay $30 a gram for the "privilege" of buying the stuff in a legal store?
Marie Van De Graaf, owner of the marijuana shop Mill Creek A in Union Gap, claims that legal 502 pot is "safer and higher quality," but both of those points are highly debatable. As for safer, the state allows more than 200 pesticides on legally grown weed.
And the reputation of legal marijuana in Washington has taken a severe beating, when it comes to quality, because many farmers rushed sub-standard product to market in the initial frenzy when the stores first opened.
"I don't think we're drawing a lot of the black market customers," Van De Graaf said.
The pricing problems go beyond just supply and demand, and they even extend past the 25 percent excise tax levied at three levels of the process -- producer, processor and retailer -- by the state, as I-502 is written. Retailers expect to have to ante up for a federal tax collection based on an obscure 1982 law that taxes businesses which sell "illegal products," and industry analysts believe it is likely to be enforced by federal regulators.
The IRS could try to collect from 50 percent to 75 percent of sales, according to Hilary Bricken, a Seattle-based lawyer who specializes in representing marijuana businesses for the Canna Law Group. Bricken said that marijuana store owners don't get the same deductions as other business owners when paying taxes.
None of the costs of running the store, such as utility bills, rent, or employee pay -- or that onerous 25 percent state excise tax -- are expected to be deductible, according to Bricken. "A year from now, we're going to see a great drop in the number of cannabis businesses out there because of this," Bricken said.
When that happens, of course, prices could skyrocket even higher in many areas, due to a lack of competition.
Since marijuana is an illegal Schedule I drug under federal law, it would have to be removed from that list on the Controlled Substances Act in order to relieve business owners of the threat of an impossibly high federal tax. "It's going to take an act of Congress, and to my knowledge there is no legislation out there that has any chance of passing," she said.
Bricken said she doesn't believe the legal marijuana stores will ever be able to compete with black market prices, the Yakima Herald Republic reports.
Is it any wonder that the Legislature -- and the legal marijuana industry in Washington -- have their sights set on extinguishing medical marijuana dispensaries in the state? The dispensaries, which have operated in the state for at least five years, typically have higher quality products and lower prices in an actual free market environment -- clearly an intolerable situation for the profiteers and the politicians with hungry tax coffers to fill.
Graphic: Live Trading News